Pestorius Sweeney House
Drewe & Pestorius, Sweeney House (1966)
photo: Gabriel Poole, 1967.
History
The Sweeney House was designed in 1965 by Geoff Pestorius (1930-1968), of the Brisbane architectural firm Drewe & Pestorius, for his brother-in-law Robert Sweeney. The two-level brick construction is a fine example of post-war domestic architecture in the International Style, its blocky 'minimal' form a unique synthesis of influences including the Bauhaus teachings of Mies van der Rohe, the Californian modernism of Neutra and Eames, traditional Japanese house and garden design, and the pioneering local architecture of Hayes & Scott. Since 1999, the Sweeney House has been the site for a wide variety of art, architecture and music projects initiated by David Pestorius, the architect's son. This enterprise has been conducted under the name 'Pestorius Sweeney House'.
Current Project
Melinda Harper
18 April — 20 June, 2020
Pestorius Sweeney House, Brisbane
During an interview conducted towards the end of his life, the American minimalist Donald Judd (1928–1994) remarked "I think colour is probably the most important aspect of art in this century. It's the one that's strongest in keeping the art from turning backward. Everybody wants to turn it backward, and I think the colour is the toughest in resistance."
The Melbourne abstract artist Melinda Harper (*1965) would undoubtedly concur with these sentiments. However, unlike Judd, Harper has steadfastly adhered to the traditional formats and materials of painting, now for well over 30 years. Which is not to suggest that the artist's devotion to the rectilinear panel and oil paint constitutes the kind of "turning backward" that Judd was so dismissive of. On the contrary, in Harper's hands these age-old conventions have always been marked by a certain criticality. Early in her career, for instance, it could be seen in the use of rough offcuts of Masonite or the cheap mass-produced canvas panels commonly associated with amateur painters. Then there is the unorthodox use of thick impasto oil paint in combination with masking tape to build up her geometric compositions, which come together slowly, in a bits and pieces, but also in a somewhat haphazard experimental manner too. At the end of the day, the slick finish of hard-edge abstraction and its fussy academic successors take a hit where it hurts.
This is Melinda Harper's first solo exhibition in Brisbane since her mid-career survey at Melbourne's Heide Museum of Modern Art in 2015. The focus of the show is a large painting from 2017, which has been installed on its own in the voluminous space of the stairhall gallery at the Pestorius Sweeney House. The painting consists of fractured multi-coloured vertical stripes, with an overall preponderance of green and out of which emerge a number of blocky forms that push and pull as well as shunt the eye around the picture plane. This reflexive dynamism is also carefully controlled by the judicious deployment of white segments, which is then accentuated by the presence of white and off-white forms in the surrounding space (the ceiling, pendant light, balusters, etc). In the result, art and architecture momentarily collapse into one another, something which has long been an ambition of abstract artists.
Jan Timme
7 February — 28 March, 2020
Pestorius Sweeney House, Brisbane
In "Vision in Motion" (1947), Moholy-Nagy summarised the avant-garde embrace of cameraless photography – the placing of objects on photochemical paper and then exposing it to light – like this: "Man Ray calls his cameraless photographs, 'rayograms'; Schade [sic] his photos without camera, 'shadograms'. When I started out in 1921 with my cameraless photographs I suggested the name 'photogram', which has been adopted since by most people".
Moholy's light ridicule of his colleagues and their self-aggrandising puns is hard to fault. After all, the photogram is as old as photography itself, while Moholy was its most innovative early exponent and great theorist. His photograms, with their disorienting inversions and strong sense of temporality could, he proclaimed, alter our perception and even spark a fresh appreciation of spatial and social relationships.
Jan Timme's photograms are a kind of tribute to Moholy, but also to Berlin, the city where he has lived since 2004 and which was an important locus for early avant-garde engagement with this dematerialising artform. Recalling the explosive grisaille paintings of K.O. Götz and K.R.H. Sonderborg, Timme's works are made with an iPhone. The most ubiquitous and affecting of contemporary objects, Apple's revolutionary smartphone here is everything at once: object, subject, source of illumination, a clock that records the event, and, of course, it's a camera too.
First exhibited in 2017 at the Galerie Nagel Draxler in Berlin, Timme calls these dramatic time-infused images "Lagaffographs", after Gaston Lagaffe, the Belgian cartoon character whose layabout yet imaginative persona is something of a touchstone for the artist (his large drawing for the Pestorius Sweeney House stairhall in 2018 also took inspiration from a Gaston cartoon). It is a naming that also conjures the ghost of Moholy and his delightful dig at the egos of artists who crave to be seen as the source of invention and influence.
John Nixon: Two paintings for a stairwell
4 September – 21 December 2019
Pestorius Sweeney House, Brisbane
On the eve of John Nixon's 70th birthday, we are delighted to present the Melbourne artist's first solo exhibition in Brisbane in over 20 years.
Although Nixon hasn't lived in Brisbane for three decades, it's a city he has a long and indelible connection to, mainly on account of the years he spent here in the early 1980s as Director of the Institute of Modern Art. It was a time of intense activity, the post-punk years, when art and rock music all but collapsed into one another, with Nixon collaborating with numerous local artists and musicians, including The Go-Betweens, who have acknowledged the importance of this interaction.
It was also when Nixon began to up the ante on the formal and conceptual vocabulary that we have come to associate with the artist. Conjuring the utopian moment of the Russian avant-garde and conjoining modern art's most radical developments – the readymade and the monochrome – Nixon's vast production over the last 40 years evinces not only great drive and dexterity, but also a joyousness that rarely attracts comment, perhaps because of a certain dourness in the way the artist tends to install his frequent exhibitions.
With his project for the Pestorius Sweeney House, Nixon eschews this expectation, playfully installing an example of his latest work, the "Paired Paintings", in a staggered formation that serves to echo the architecture of the stair hall gallery. The reflexivity this generates is then doubled by the dynamic inter-related compositions, forms and materials that comprise the two paintings. A seemingly random selection and disposition of off-cut elements scavenged from the workshop floor; they are, in fact, carefully composed constructions, with the dominant square/diamond motif another subtle reminder of an architecture in which the right-angle and square are ever present.
Dave Hullfish Bailey + Sam Watson
CityCat Project 2019
18 May – 20 July 2019
Pestorius Sweeney House, Brisbane
To complement the presentation of Dave Hullfish Bailey and Sam Watson's CityCat Project in the Brisbane Art Design exhibition now at the Museum of Brisbane, the Pestorius Sweeney House is hosting the first historical overview of the project.
A video co-produced with Heimo Zobernig in 2017 and encountered on entry offers an experimental documentary of the first four iterations of the Maiwar Performance. The central element of the CityCat Project, the performance was first staged in 2006. Chronology, however, is eschewed in the survey, which forges nonlinear connections between the disparate elements, themes and impulses that have generated the works themselves.
Large photographs of the residual wakes created by CityCat ferries during the Maiwar Performance in 2012 provide an oblique record, while calling attention to the event as an act of marking territory. The converse impulse — to destabilize colonial claims to the land — informs the most recent works: a series of digital prints based on satellite mapping of South East Queensland's cadastral survey control marks.
Other works situate the Maiwar Performance in broader spatial and historical contexts: a found image of a young Sam Watson working at the Aboriginal Embassy in Canberra in 1972 embeds the CityCat Project within longer struggles for Aboriginal land rights. Expanding the geographic frame, a 2016 photograph shows the Aboriginal flag flying near the entrance to protest camps on the Standing Rock Sioux Reservation in North Dakota.
Taken together, what emerges is less a comprehensive history of the project than a meditation on its processes, networks of relevance, and modes of collaboration. While Bailey's methods — word play and language games, analogical experiments, conflations of words and their material referents, etc. — have decidedly Western roots, the circuits they construct between differing orders of meaning suggest conceptual and textural affinities with Watson's own writing. In particular the narrative universe of The Kadaitcha Sung (Penguin, 1990), in which ancient culture, the colonial past and contemporary reality are fluidly superimposed, comes to mind.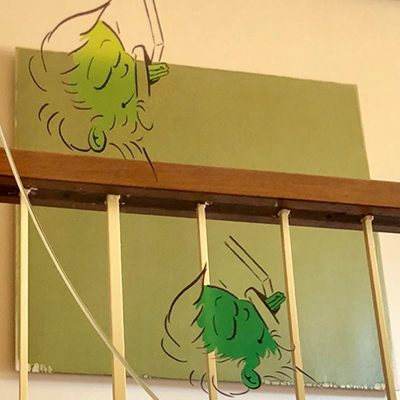 Green Room: Paul Bai, Stephen Bram, Gail Hastings, Joseph Marioni, Jan Timme
2 March – 27 April, 2019
Pestorius Sweeney House, Brisbane
The Brisbane architect and designer of the Sweeney House (1966), Geoffrey Pestorius, was known to say "There are only two colours: green and dark green." It therefore, perhaps, comes as no great surprise to learn that upon his engagement to journalist Geraldine Sweeney he gave her an emerald ring.
Of course, green was not the only colour that Geoff Pestorius favoured. He was also partial to a mustard yellow, which can be seen in the carefully chosen brickwork at the Sweeney House as well as in items of furniture that he either had made or otherwise acquired. Yet it was green that moved him most and it is everywhere present, both inside and out, at the Sweeney House, which since 1999 has been the site of numerous exhibitions and events held under the Pestorius Sweeney House banner. To celebrate this milestone, we are re-exhibiting a number of artworks that were originally shown at the Pestorius Sweeney House in days gone by and where the colour green is predominate.
Commencing with Jan Timme's colour wheel clock, its naturalistic green hour markers chime visually as Joseph Marioni's exquisite 'Green Painting' (2013) comes into view. The role of time and the self-reflexive experience of architectural space also figure in Gail Hastings' 'Encyclopaedia of Contemporary Art' (1996). A pencil and watercolour drawing in two parts, the Hastings artwork takes Varvara Stepanova's famous fabric patterns from the 1920s as its point of departure, while a small two point perspective painting from 2003 by Stephen Bram continues this spatio-temporal thematic. To round out the display, Brisbane artist Paul Bai has made a new artwork especially for the show.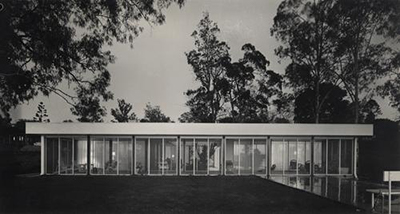 Gabriel Poole: Photographer
12 October – 24 November, 2018
Pestorius Sweeney House, Brisbane
The architecture of Gabriel Poole is well-known, especially his lightweight and environmentally sensitive houses on Queensland's Sunshine Coast. In 1991, Poole's Tent House at Eumundi received the Australian Institute of Architects' Robin Boyd Award for Residential Architecture, while in 1998 he was awarded that organisation's Gold Medal, its highest honour. A decade on, Poole's work was presented as precursory in a major survey of recent local architecture at the Queensland Art Gallery.
Less well-known is Poole's architectural photography, which is the subject of this exhibition. Focusing on a group of important courtyard houses that Poole photographed for submissions to the Institute's annual awards in the 1960s, the show features the architect's family home, the Poole House (1962), designed while still a student draftsman in Robin Gibson's office; the award-winning Mocatta House (1965, above), which Poole also designed while working for Gibson; Geoffrey Pie's Ravenscraig 2 House (1965); and Geoffrey Pestorius' Sweeney House (1966).
It is a significant grouping of vintage photographs: the original silver gelatin prints made by a now celebrated architect for an important occasion, they speak of a certain milieu of emerging Brisbane practitioners in the post-war period and how they adapted Mies van der Rohe's Bauhaus teachings to the subtropical climate and topography of South East Queensland. Rejecting the rambling tin and timber stump-house, the so-called Queensland idiom, they created a new rectilinear ground-hugging architecture, predominantly of glass and masonry. With site and context, house and garden, inside and out, all precisely integrated within a spatially fluid, light, open and cool plan, these houses were compact and more in tune with local conditions than any of the regional vernacular building precedents.
Gabriel Poole's photographs for also lend credence to the conceit that there was a Brisbane School of modern architecture and that it reached its apotheosis with the architects and houses the subject of this exhibition.
Jan Timme: Clouds
12 October – 24 November, 2018
Pestorius Sweeney House, Brisbane
It is with great pleasure that we announce the first exhibition in Australia by the Berlin-based artist Jan Timme (*1971 in Stuttgart).
In 2007, Timme's work was included in the pleonastically titled group exhibition 'Romantic Conceptualism'. Curated by Jörg Heiser at the Kunsthalle Nürnberg, it sought to debunk the cliché that Conceptual Art is anti-romantic in nature and, its reciprocal, that Romantic Art is anti-conceptual. Then, in 2011, in an article for Artforum, the art historian and critic André Rottmann wrote of how Timme's engagement with post-Duchampian practices is marked, not by nostalgia, academicism or simple emulation, but by a lightness and play that, dare we say it, approaches the condition of poetry. It is certainly true that the artist has bent and twisted pop song lyrics, including those of Brisbane group The Go-Betweens, to his own reflexive ends, with Timme's diverse production since 1996 the subject of Endless Night, an exquisitely detailed 352 page monograph published by Koenig Books in 2017.
For his Brisbane exhibition, Timme takes the temporal experience of the Pestorius Sweeney House, with its Miesian flow and blurring of inside and out, as a springboard. The show's title, 'Clouds', evokes multiple associations, amongst other things to Gabriel Poole's dramatic 1967 photograph of the house on the cover of the small book devoted to it; to the predominantly Minimal-Conceptual program of the house over the last two decades (here clouds are the thought bubbles of cartoons, a Popist tradition that Timme is particularly adept at); and to the ever-changing conditions of natural light and the temporality this brings to the installation. All of these things find form in a new body of work that joins with the architecture in a reflexive doubling of its theatricality and discursive situation.
Another aspect of Timme's Brisbane exhibition is its engagement with the discoveries of his fellow countryman, Sigmar Polke (1941–2010), whose 1981 travels in Australia's Central Desert led him to a heightened appreciation of colour, especially purple, and its materiality. Timme recently retraced Polke's steps with a view to experiencing for himself what its Aboriginal inhabitants have known for thousands of years — as the watercolours of Albert Namatjira (1902-1959) and his Arrernte followers so powerfully attest — and what Polke once mysteriously described as "an entirely abstract affair that you only get in this part of the world".