Pestorius Sweeney House
Drewe & Pestorius, Sweeney House (1966)
photo: Gabriel Poole, 1967.
History
The Sweeney House was designed in 1965 by Geoff Pestorius (1930-1968), of the Brisbane architectural firm Drewe & Pestorius, for his brother-in-law Robert Sweeney. The two-level brick construction is a fine example of post-war domestic architecture in the International Style, its blocky 'minimal' form a unique synthesis of influences including the Bauhaus teachings of Mies van der Rohe, the Californian modernism of Neutra and Eames, traditional Japanese house and garden design, and the pioneering local architecture of Hayes & Scott. Since 1999, the Sweeney House has been the site for a wide variety of art, architecture and music projects initiated by David Pestorius, the architect's son. This enterprise has been conducted under the name 'Pestorius Sweeney House'.
Current Project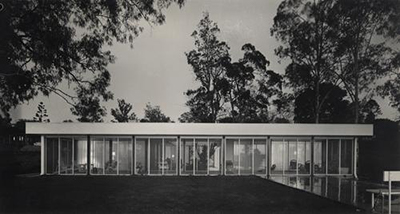 Gabriel Poole: Photographer
12 October – 24 November, 2018
Pestorius Sweeney House, Brisbane
The architecture of Gabriel Poole is well-known, especially his lightweight and environmentally sensitive houses on Queensland's Sunshine Coast. In 1991, Poole's Tent House at Eumundi received the Australian Institute of Architects' Robin Boyd Award for Residential Architecture, while in 1998 he was awarded that organisation's Gold Medal, its highest honour. A decade on, Poole's work was presented as precursory in a major survey of recent local architecture at the Queensland Art Gallery.
Less well-known is Poole's architectural photography, which is the subject of this exhibition. Focusing on a group of important courtyard houses that Poole photographed for submissions to the Institute's annual awards in the 1960s, the show features the architect's family home, the Poole House (1962), designed while still a student draftsman in Robin Gibson's office; the award-winning Mocatta House (1965, above), which Poole also designed while working for Gibson; Geoffrey Pie's Ravenscraig 2 House (1965); and Geoffrey Pestorius' Sweeney House (1966).
It is a significant grouping of vintage photographs: the original silver gelatin prints made by a now celebrated architect for an important occasion, they speak of a certain milieu of emerging Brisbane practitioners in the post-war period and how they adapted Mies van der Rohe's Bauhaus teachings to the subtropical climate and topography of South East Queensland. Rejecting the rambling tin and timber stump-house, the so-called Queensland idiom, they created a new rectilinear ground-hugging architecture, predominantly of glass and masonry. With site and context, house and garden, inside and out, all precisely integrated within a spatially fluid, light, open and cool plan, these houses were compact and more in tune with local conditions than any of the regional vernacular building precedents.
Gabriel Poole's photographs for also lend credence to the conceit that there was a Brisbane School of modern architecture and that it reached its apotheosis with the architects and houses the subject of this exhibition.
Jan Timme: Clouds
12 October – 24 November, 2018
Pestorius Sweeney House, Brisbane
It is with great pleasure that we announce the first exhibition in Australia by the Berlin-based artist Jan Timme (*1971 in Stuttgart).
In 2007, Timme's work was included in the pleonastically titled group exhibition 'Romantic Conceptualism'. Curated by Jörg Heiser at the Kunsthalle Nürnberg, it sought to debunk the cliché that Conceptual Art is anti-romantic in nature and, its reciprocal, that Romantic Art is anti-conceptual. Then, in 2011, in an article for Artforum, the art historian and critic André Rottmann wrote of how Timme's engagement with post-Duchampian practices is marked, not by nostalgia, academicism or simple emulation, but by a lightness and play that, dare we say it, approaches the condition of poetry. It is certainly true that the artist has bent and twisted pop song lyrics, including those of Brisbane group The Go-Betweens, to his own reflexive ends, with Timme's diverse production since 1996 the subject of Endless Night, an exquisitely detailed 352 page monograph published by Koenig Books in 2017.
For his Brisbane exhibition, Timme takes the temporal experience of the Pestorius Sweeney House, with its Miesian flow and blurring of inside and out, as a springboard. The show's title, 'Clouds', evokes multiple associations, amongst other things to Gabriel Poole's dramatic 1967 photograph of the house on the cover of the small book devoted to it; to the predominantly Minimal-Conceptual program of the house over the last two decades (here clouds are the thought bubbles of cartoons, a Popist tradition that Timme is particularly adept at); and to the ever-changing conditions of natural light and the temporality this brings to the installation. All of these things find form in a new body of work that joins with the architecture in a reflexive doubling of its theatricality and discursive situation.
Another aspect of Timme's Brisbane exhibition is its engagement with the discoveries of his fellow countryman, Sigmar Polke (1941–2010), whose 1981 travels in Australia's Central Desert led him to a heightened appreciation of colour, especially purple, and its materiality. Timme recently retraced Polke's steps with a view to experiencing for himself what its Aboriginal inhabitants have known for thousands of years — as the watercolours of Albert Namatjira (1902-1959) and his Arrernte followers so powerfully attest — and what Polke once mysteriously described as "an entirely abstract affair that you only get in this part of the world".