Recent, Current and Upcoming
50: Drewe & Pestorius' Sweeney House
- Pestorius Sweeney House
Heimo Zobernig
- Pestorius Sweeney House
________________________

Drewe & Pestorius, Sweeney House (1966),
photo: Gabriel Poole, 1967.

50: Drewe & Pestorius' Sweeney House
27 August – 26 November, 2016
Pestorius Sweeney House, Brisbane
Curated by Dr Andrew Wilson (Head, The Leeds School of Architecture), the exhibition 50: Drewe & Pestorius' Sweeney House celebrates the 50th anniversary of the modern house that Brisbane architect Geoff Pestorius (1930–1968) designed for his brother-in-law Robert Sweeney. In a city that continues to fetishize the local 'tin and timber' vernacular building tradition and it's dubious legacy, it is unusual to see Modernist masonry houses make it to fifty unscathed. Despite being more at one with the sub-tropical climate and evidencing a spatial sophistication that eclipses so much of what passes for domestic architecture today, these remarkable houses are still not singled out for heritage protection, but allowed to fall victim to rampant redevelopment.
Located on a modest corner block high on Hamilton Hill, the Sweeney House is perhaps the best surviving example of how post-war Brisbane architects adapted the lessons of the Bauhaus to local climatic and geographic conditions. Marked by an abundance of floor-to-ceiling glazing, house and garden blur into one another while the open-plan is a case study in cross-ventilation, natural lighting and spatial fluidity.
The important outdoor spaces of the Sweeney House, which were realised in cooperation with pioneering Brisbane landscape architect Arne Fink (1930–1993), reflect a balance of Indigenous, Oceanic and Asian species, with many of the original plantings still extant. Much of the original furniture also remains in situ and has been augmented with period pieces acquired locally from Danish Quality Furniture and the Craftsman's Market, as well as rare constructivist chairs by Campbell Scott and a small pine table by Robert Dunlop.
The exhibition, which will be presented in the stairhall gallery (originally designed to accommodate Robert Sweeney's art collection), will include original drawings, blueprints and vintage photographs taken by architect Gabriel Poole soon after the house was completed in 1966. In addition, a book by Leni Hoffmann with essays by Dr Wilson, Jonathan Kopinski and David Pestorius is being produced to accompany the exhibition.
Please note that attendance at this exhibition is by appointment only and that persons wishing to see it should contact David Pestorius on (07) 3262 4870 to arrange a suitable time.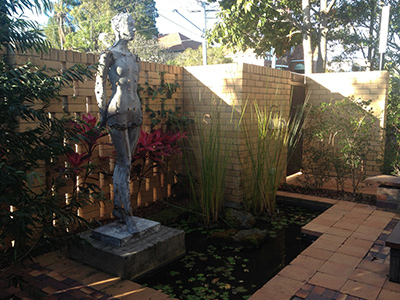 Heimo Zobernig
6 August – 3 December, 2016
Pestorius Sweeney House, Brisbane
If there was ever any doubt about Mies van der Rohe's logic in choosing a life-size bronze for his Barcelona Pavilion (1929), it was resolved once and for all when Philip Johnson invited the architect to design the dust-jacket for the monograph accompanying his 1947 MoMA retrospective. For that small but significant commission, Mies chose a side view of the Barcelona courtyard animated by Georg Kolbe's vampiric sculpture 'Morning', its hands shielding its eyes in an echo of the pavilion's roofline, its generous overhanging eaves providing shaded respite from the bright Catalan sun.
It is hard not to see Mies' selection of the Kolbe sculpture for his pavilion in Barcelona as a kind of architectural doubling. And not only on account of the revealing dust-jacket photograph. Two years after his Barcelona exhibition, Mies would again collaborate with Kolbe on a public display: his equally important, but less well-known, Berlin Exhibition House (1931). For that project, Mies also chose a Kolbe figure that served a mirroring function, it's ambulatory form offering a clue to the radical spatial fluidity that so characterised the architect's work.
Since 1999 Heimo Zobernig has visited and exhibited at the Pestorius Sweeney House in Brisbane on numerous occasions. Indeed, more often than any other artist, while his painted carpet for the living/dining room is now a permanent installation. Zobernig knows well the nuances of the house, with its walled court, pond, sculpture base, and, of course, its fluid open plan and blurring of inside and out, all taking their cue from Mies. For his 2016 exhibition, the artist puts this knowledge to use as he explores the place of sculpture in modern architecture, updating the intertwined story of Mies and Kolbe.
While Zobernig has for many years experimented with readymade mannequins, in 2015 he began to work in bronze, casting and conjoining male and female components along with 3D scans of his own head to create strangely androgynous beings. However, rather than cutting the casting sprues flush and sand-blasting the residue and welds to conceal the process, the artist toys with these aspects of finish in highly inventive and unexpected ways. And, as with other strands of the Zobernig's vast oeuvre (think, for example, of his grid paintings that incorporate the masking tape into the work), a complex imaginative space opens up for the viewer, who, to follow the artist's logic, finally 'finishes' the work.
Heimo Zobernig was born in 1958 in Mauthen and lives in Vienna, where since 2000 he has been Professor of Sculpture at the Academy of Fine Arts. He has participated in Documenta 9, 10 and 11, while in 2010 he was awarded the prestigious Kiesler Prize for architecture and the arts. In 2016, Zobernig's architectural intervention for Josef Hoffann's Austrian Pavilion at the 56th Venice Biennale was awarded the Roswitha Haftmann Prize, Europe's best-endowed prize in the field of contemporary art.
Please note that attendance at this exhibition is by appointment only and that persons wishing to see it should contact David Pestorius on (07) 3262 4870 to arrange a suitable time.