Recent, Current and Upcoming
One And Three Chairs
- Pestorius Sweeney House
May 68
- Pestorius Sweeney House
Dave Hullfish Bailey + Sam Watson - CityCat Project 2018
- Pestorius Sweeney House
Tim Page: New Haven, 9 December 1967
- Pestorius Sweeney House
The Association of Friends of Nevil Matthews
- Pestorius Sweeney House
Australian Fine Arts at Spring 1883
- Other Locations
Paul Bai
- Pestorius Sweeney House
Erika Scott
- Pestorius Sweeney House
Nevil Matthews
- Pestorius Sweeney House
Dave Hullfish Bailey + Sam Watson: CityCat Project 2017
- Other Locations
Dave Hullfish Bailey + Sam Watson: CityCat Project 2016
- Pestorius Sweeney House
50: Drewe & Pestorius' Sweeney House
- Pestorius Sweeney House
Heimo Zobernig
- Pestorius Sweeney House
________________________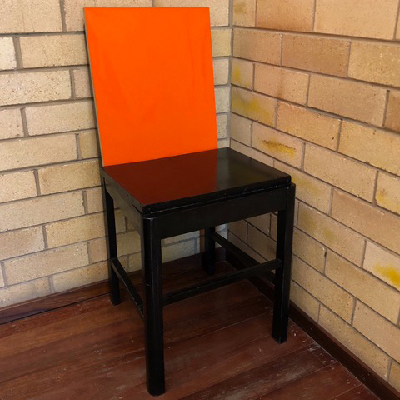 One And Three Chairs
25 July — 21 September, 2018
Pestorius Sweeney House, Brisbane
Joseph Kosuth's 'One and Three Chairs' (1965) is perhaps the most well-known work of Conceptual Art. Comprised of a chair flanked by a life-size photograph of the chair and an enlarged facsimile of a dictionary definition of the word 'chair', it is a kind of updating of Rene Magritte's famous painting 'The Treachery of Images' (1929). While the installation orchestrates an equivalence between the thing itself and its visual and verbal representation, it also at the same time highlights the disparities between them and, ultimately, the imperfect nature of language.
Kosuth would later apply the same display logic to several other objects, with, for example, the collection of the Art Gallery of New South Wales including his 'One and Three Tables'. Which begs the question: What prompted the artist to initially select a chair, that most banal of utilitarian objects? Was it precisely this ordinary, everyday and ubiquitous quality that attracted Kosuth to the chair? Or did it signify something more? After all, the 'one and three' series includes a shovel, which surely hints at Duchamp's famous readymade 'In advance of a broken arm' (1915).
These are some of the questions that this exhibition probes via the selection and disposition of artworks (by Gail Hastings, John Nixon, Heimo Zobernig, and Janet Burchill and Jennifer McCamley), each of which to a greater or lesser degree takes the chair as its subject, while a 1965 constructivist chair by the Brisbane architect Campbell Scott (1921-2007) rounds out and further complexifies the presentation.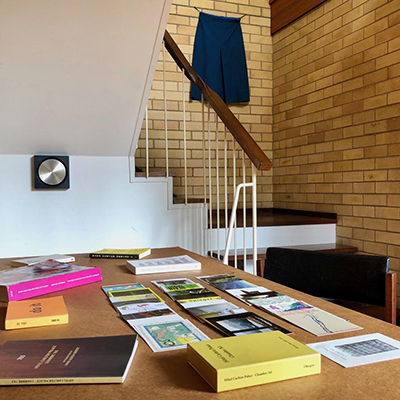 May 68
9 May — 16 June, 2018
Pestorius Sweeney House, Brisbane
On the 50th anniversary of the May 68 student protests in Paris we revisit this moment through the prism of the peripatetic Swiss curator Hans Ulrich Obrist, who himself turns 50 this month. Associated with the curator boom of the 1990s, Obrist and other high-profile exhibition makers of his generation were criticised for misunderstanding curating as "no longer separate from artwork but as a 'cooler' kind of art practice". While this holds true for some, after more than a quarter of a century, HUO has transcended this criticism, his embrace of ever more diverse presentational possibilities and the sheer volume of his activities placing him in a league all of his own.
Of course, this diversity and output makes it difficult to fix upon just what it is that Obrist stands for and this too has drawn criticism. However, as those familiar with his early activities know, back then HUO subtly attributed a kind of cosmic significance to the fact that he was born in May 1968, that wild utopian moment when capitalism, consumerism and convention were the subject of serious challenge
Accordingly, for 'May 68' we present the boxed edition of artist's postcards from HUO's first Paris project, 'Hôtel Carlton Palace: Chambre 763' (1993), alongside other early publications by the curator, including his exhibition manual for 'Do It' (1995) and the Secession catalogue for his 'Cities On The Move' (1997) project, as well as some of his more recent books on the subject of curating.
In addition, the display will include artworks from the early 1990s by Andreas Exner (Frankfurt) and Leni Hoffmann (Düsseldorf), both of whom contributed related works to HUO's Hôtel Carlton Palace installation and have regularly exhibited with us here in Brisbane over the last 25 years.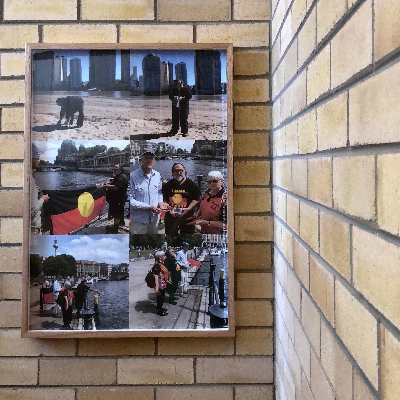 Dave Hullfish Bailey + Sam Watson
CityCat Project 2018
21 March — 28 April, 2018
Pestorius Sweeney House, Brisbane
Fifteen years ago the Los Angeles artist Dave Hullfish Bailey first visited Brisbane to conduct research for a public project in the city. After three weeks of intensive investigation the artist presented his initial ideas and proposals in a slide-lecture at Brisbane's Institute of Modern Art. Amongst the proposals was a performance involving the unannounced deflection of Brisbane's popular CityCat ferries at a location on Maiwar (the Brisbane River) and in a manner to be determined by local Indigenous stake-holders.
In 2006, following a drawn-out process of negotiation with the Brisbane City Council, the senior Aboriginal activist and writer Sam Watson realised the performance at a site of ancient cultural significance, but which was also, importantly, the 19th Century boundary of the city that Aboriginal people were not permitted to cross after dark. At a public forum the next day, Watson spoke of how the event had liberated the local Indigenous community, if only momentarily, from the shackles of colonisation. He then declared the performance a Dreaming and stated that it should be restaged from time to time into the future.
Parallel to the event on the river, which has been restaged in 2009, 2012 and 2016 (and is today known as 'Maiwar Performance'), is a diverse body of material works, which is the outcome of a complex collaborative process involving not just Bailey and Watson, but also the Viennese artist Heimo Zobernig, who since 2006 has had a just-behind-the-scenes role in proceedings. This exhibition will include two of these tripartite works, both of which were created for the presentation of the project at the Galerie Nagel Draxler in Berlin in June 2017 and have not been shown before in Brisbane.
The first of these recent works is the video 'Maiwar Performance' (2017), which consists of edited documentation of all four events on the river since 2006, a news ticker text and overlaid positive/negative treatments by Zobernig. The other work is the Zobernig designed window poster for the Berlin presentation, which documents a traditional protocol action by Watson that saw him deposit a small amount of sand from Maiwar into The Spree as a mark of respect on arrival in a foreign place where he was about to undertake cultural business. It is typical of Watson's work, which not only insists that traditional culture is still alive in our cities despite the brutal affects of colonisation, but also raises questions about the activities and practices of Aboriginal artists in places they have no blood connection to.
This project is supported by the Queensland Government through Arts Queensland.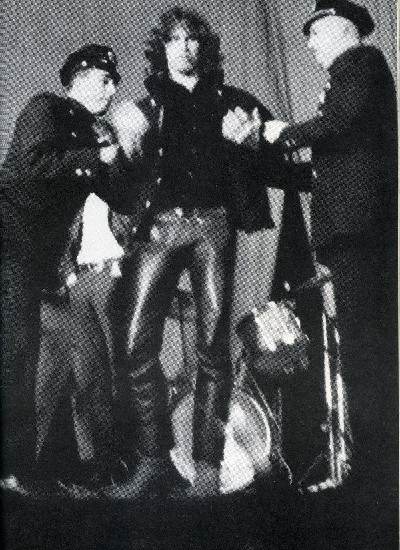 Tim Page: New Haven, 9 December 1967
9 December — 24 February, 2018
Pestorius Sweeney House, Brisbane
Opening Saturday 9 December 2017, 6pm
Saturday 9 December 1967 was a defining moment in rock history, one that pointedly upheld the burgeoning youth culture as a potent political force. With increasing opposition to the war in Vietnam and rising social inequality, rock became a vehicle for demonstration and dissent. Leading the way, of course, was Bob Dylan, while the Velvet Underground and the MC5 also took the new music into uncomfortable corners of the socio-political realm. The Doors, however, were the first group in rock history to have its singer, Jim Morrison, arrested mid-performance for 'breach of the peace'.
What happened in New Haven on 9 December 1967 is well documented. In the course of one of Morrison's signature mid-song monologues he described an incident just prior to going on stage when police spayed him with tear-gas. Earlier, in another monologue, the singer declared "We want the world and we want it NOW". There was a real sense of urgency and purpose in Morrison's pronouncements, with the event more like a political rally than a performance. The police, however, had heard enough. Riotous scenes followed, not only in the hall, but outside and back at the police station where Morrison was being held.
Brisbane artist Tim Page is best known for his work as a photojournalist in Vietnam in the 1960s. On 9 December 1967, however, Page was in New Haven covering The Doors show for Life magazine. Before being arrested himself on similarly trumped-up charges, the artist managed to capture Jim Morrison's performance and arrest on celluloid. Fifty years later, Page revisits and reflects upon that moment when rock galvanised the masses and posed a serious challenge to establishment attitudes and values. While rock spent time in the wilderness in the 1970s, it rediscovered its mojo in punk. But where is that mojo today? With Capitalism more deficient and the public sphere more polarised than ever before, where is that voice of dissent now? These are just a couple of the questions that Tim Page's exhibition wants to ask
Tim Page's 'New Haven, 9 December 1967' is a boxed portfolio of five A2-format archival inkjet prints and title page on Hahnemühle paper, produced in an edition of 20 on the 50th anniversary of Jim Morrison's arrest in New Haven on 9 December 1967.
Following the opening event, the exhibition may be viewed (by appointment only in December/January) until 24 February 2018. For further information, contact David Pestorius.
The Association of Friends of Nevil Matthews
7 October — 11 November, 2017
Pestorius Sweeney House, Brisbane
Opening Saturday 7 October, 5pm
Nevil Matthews (1930–2013) was one of the pioneers of modern art in Brisbane.
Between 1947–1951 Matthews attended the art school of the Central Technical College in Brisbane. He then studied privately with Jon Molvig and later with Clement Meadmore, while in 1957 he was involved in the initial push to establish the Queensland Branch of the Contemporary Art Society. In the 1960s, the CAS was the most advanced context for art in Brisbane and Mathews was an active member until its demise in 1973. Throughout this period he was also a regular exhibitor at The Johnstone Gallery, then Brisbane's leading commercial dealer. Although Matthews' hard-edge abstraction was at odds with the figuration that dominated the gallery's program, its director Brian Johnstone, who was no fan of abstract art, nonetheless presented five exhibitions by the artist over the course of a decade.
By the late 1970s, Matthews, however, was only rarely exhibiting. The Johnstone Gallery had closed in 1972 and while there was a retrospective survey of his work at the Ray Hughes Gallery in Brisbane the following year and exhibitions at the Bonython Gallery in Sydney in 1972, 1974 and 1976, opportunities thereafter dwindled. With abstract art devalued, Matthews' work found fewer supporters, and exhibitions in Brisbane in the 1980s went more or less unnoticed. For a time he painted seascapes.
In the 1990s Matthews stopped making art. For years apparently embittered by his situation, in 2006, however, he accepted an invitation to participate in TURRBAL-JAGERA: The University of Queensland Art Projects 2006, where he showed an 11 minute film of Mayne Hall (1973), now the University of Queensland Art Museum, under construction. Then, in 2009, in what would be his last exhibition, Matthews contributed one of his tondo paintings from 1978 to Queensland Art 2009, a polemical survey at the Pestorius Sweeney House that memorialised Vida Lahey's Art in Queensland 1859–1959 on the occasion of its 50th anniversary.
Nevil Matthews was also, for the right students, an inspirational teacher. In the late 1960s he ran his own art classes and also taught in the architecture department at the University of Queensland. Then, in the 1970s, he taught at Brisbane's Central Technical College and at the Darling Downs Institute of Advanced Education in Toowoomba, while in the early 1980s he was on the faculty of the Queensland College of Art in Brisbane.
This exhibition is the second and final Nevil Matthews memorial exhibition to be held at the Pestorius Sweeney House in 2017. It celebrates the formation of an association dedicated to preserving the artist's legacy and focuses on a group of small sketches for the circle paintings Matthews made in London in 1967 and exhibited at The Johnstone Gallery in May 1969 accompanied by a brief interpretive text from architect John Dalton. In addition, the artist's evocative 8mm film of Mayne Hall will be presented on video. A testament to Matthews' close association with another celebrated Brisbane architect, Robin Gibson (1930–2014), the film reignites questions around authorship, not only of Mayne Hall but also other contemporaneous Gibson projects such as the Queensland Art Gallery.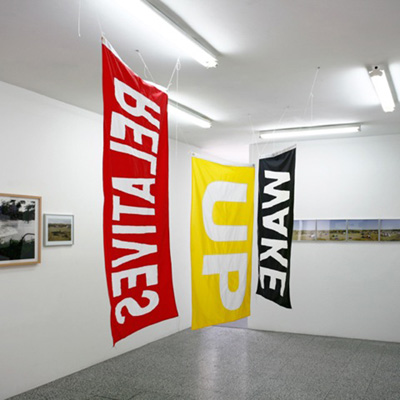 Australian Fine Arts at Spring 1883
6 — 9 September, 2017
The Establishment, Sydney
Australian Fine Arts/David Pestorius is pleased to announce its participation in this year's edition of Spring 1883, with a selection of works from the CityCat Project, the ongoing (since 2006) collaboration between Los Angeles artist Dave Hullfish Bailey and Brisbane Indigenous community leader and writer Sam Watson.
In addition to the primary presentation in Suite 501, which will focus on Bailey's 'call-and-response' engagement with Watson's varying deployments of the Aboriginal flag in the CityCat Project, Watson will curate a film program for the foyer of The Establishment, the boutique hotel where Spring 1883 is held.
Paul Bai
29 July — 26 August, 2017
Pestorius Sweeney House, Brisbane
Opening Saturday 29 July, 3pm
An exhibition of recent work by Brisbane artist Paul Bai (*1968) will be presented at the Pestorius Sweeney House over the following month.
The venue is a place Paul Bai knows well, having had no less than six exhibitions here since 2001. The post-Miesian architecture of the Pestorius Sweeney House, with its exquisite flow of spaces and combination of materials also suits Bai's reductive aesthetic, which the artist has sharpened via a deep interest in the theories and practices that emerged in the wake of Minimalism in the 1960s.
With the handcrafted object giving way to industrial fabrication and the ambulatory viewer, art became increasingly reduced, conceptual and, above all, concerned with the experience of real space and time. We see all of these things in the art of Paul Bai, which like the layering of images in a Sigmar Polke painting renders perception ambivalent and complicates the mental processing that accompanies it.
And as with Polke, a wry humour tempers the artist's highly theorised investigation into the indeterminacy of spatial representation. Emblematic is Distance Between Two Points (3), 2017, a variation on a work Bai exhibited in New 15 at the Australian Centre for Contemporary Art. Comprised of two large black adhesive dots fixed to the wall with a portion of each dot peeled down from the top, it underscores the uncertain distance between two spatial marks, with the impossibility of an exact measurement of space.
Bai's upcoming project will not only reflect his familiarity with the architecture and offer up a series of spatial conundrums that hint at a third or inbetween position, but also involve an echo of the previous exhibition by Erika Scott, which Bai curated.
For further information, please contact David Pestorius on (07) 3262 4870.
Erika Scott
22 April – 20 May, 2017
Pestorius Sweeney House, Brisbane
Opening 22 April, 2017, 6pm
David Pestorius is pleased to announce the first gallery exhibition of Brisbane artist Erika Scott, which will open at the Pestorius Sweeney House on Saturday 22 April.
It is sometimes hard to know what Scott is up to. Her project appears less an attempt to depict or make sense of the world than to double the chaos and confusion she finds there. Not since the emergence in the early 1990s of Sydney 'grunge' (Armanious, Cullen, Dwyer, et al.), have we seen such eccentric and compelling work. Visually anarchic and riddled with ambiguity, Scott's collages, paintings and sculptures are also marked by a highly personalised physical involvement. Working with photo-prints, clay, found objects and furniture, the artist is constantly deconstructing and reconstructing her materials to create something that shifts between image and object, the organic and artificial, form and anti-form.
Scott studied at the Queensland University of Technology with Mark Webb, who until his recent retirement mentored successive generations of Brisbane artists from Gordon Bennett to Grant Stevens and beyond. Since graduating in 2009, the artist has produced works and evolved her distinctive sensibility via exhibitions and activities in diverse contexts and situations, mostly in Brisbane's dynamic ARI spaces.
For Scott's exhibition at the Pestorius Sweeney House, which is curated by fellow Brisbane artist Paul Bai, her work will find itself in an exquisite tension with the crisp geometries, material warmth and spatial nuances of the modernist architecture that will momentarily serve as its home.
For further information, please contact David Pestorius on (07) 3262 4870.
Nevil Matthews
1 March – 15 April, 2017
Pestorius Sweeney House, Brisbane
When the Brisbane artist Nevil Matthews died in early 2013 at the age of 82 there was no obituary, much less a memorial exhibition or retrospective.
Yet in the 1960s and 70s Matthews was perhaps Brisbane's most successful and accomplished artist. Between 1963 and 1972 he had no less than five solo exhibitions at The Johnstone Gallery, the city's leading contemporary art dealer of the time. It is an achievement all the more remarkable given that Matthews' hard-edge abstraction was dramatically at odds with the antipodean nationalism that so defined the Johnstone's program (not that one would get a sense of this from Nancy Underhill's sentimental and shambolic recent account of the gallery). The artist also had several exhibitions with Kym Bonython in Sydney and at South Yarra Galleries in Melbourne.
While Matthews was essentially a painter, perhaps his greatest achievements were in the field of architecture and it is instructive that during the early 1960s he was close to the artist/designer Clement Meadmore, who was then living in Sydney. Matthews' 1973 coloured-glass windows for Robin Gibson's Mayne Hall (1973), now the University of Queensland Art Museum, are so well integrated that he could be credited as co-creator of the building. Indeed, Matthews and Gibson had a long and productive association. It is thought to have begun with the artist's own home, the Matthews House (1958) in The Gap, and continued into the 1980s, with Gibson's crowning achievement, the Queensland Cultural Centre (1982), said to be substantially indebted to Matthews' drawings and advice. Needless to say, this is not how history records events.
Between 1966 and 1968 Matthews lived in London, where he knew the English painter Bridget Riley. His work Drop Through 4 (1967) betrays this association. Part of a large series of paintings and drawings shown at the Johnstone Gallery in 1969, their play with circles and abrasive opticality, but also the brief but evocative titles Matthews gave his London work, are all reminiscent of Riley's approach.
In the 1970s, Matthews' paintings became increasingly constructive, with the integration of diverse materials, including aluminium and coloured perspex. He also activated the diagonal in his painting and here too we are reminded of Riley. The Great Australian Totem (1970), is an example of the former, its title a dig at nationalism, our predominantly outdoor culture and worship of the sun.
Drop Through 4 and The Great Australian Totem are currently on exhibition at the Pestorius Sweeney House and can be viewed by appointment only until 15 April, while a group of Matthews' painting sketches from 1967 will be exhibited later in the year in a further belated tribute to one of Brisbane's most significant but now sadly undervalued artists.
Dave Hullfish Bailey + Sam Watson: CityCat Project 2017
15 March — 8 April, 2017
Australian Fine Arts/David Pestorius at Neon Parc, Melbourne
Neon Parc is pleased to announce the exhibition Dave Hullfish Bailey + Sam Watson: CityCat Project 2017, an ongoing collaboration (since 2006) between Los Angeles artist Dave Hullfish Bailey and Brisbane Aboriginal activist and writer Sam Watson. Presented by Australian Fine Arts/David Pestorius, the curator of the project, the show bridges indigenous concerns and political action across geographic borders.
Building upon works first presented at the Pestorius Sweeney House in Brisbane last December, the exhibition includes photo and text-based works created by Bailey in the aftermath of a visit in October 2016 to the camps near Cannonball, North Dakota, where Indigenous leaders and environmental activists came together to resist construction of an oil pipeline that has destroyed sacred sites and threatens supplies of drinking water. The exhibition features photographs of the Oceti Sakowin (Seven Fires of the Great Sioux Nation) encampment — where the Aboriginal flag flew proudly near the main entry — alongside archival images of the Aboriginal Embassy media event in Canberra in 1972. Through these juxtapositions, Bailey frames parallels between the birth of the Aboriginal land rights movement and the current resurgence of sovereignty issues raised in North Dakota.
The exhibition will also feature documentary photo and video works relating to Bailey and Watson's collaborative Maiwar Performance on the Brisbane River (Maiwar). Staged in 2006, 2009, 2012 and 2016, the performance involves unannounced interruptions to the normal routing of Brisbane's popular CityCat ferries to highlight the colonial past of the river and reintroduce indigenous narratives. The location of the interruptions is both the site of an ancient Dreaming story and also the colonial boundary that excluded Aboriginal people from the city after dark. Seen by Watson as an important act of Indigenous empowerment, the Maiwar Performance seeks to restore agency to the Indigenous people living around Brisbane by bringing past narratives alive within the community, and by projecting the possibility of a future not definitively determined by the recent past.
A question operating just beneath the exhibition is the ways in which the Aboriginal Embassy and the ongoing encampments in North Dakota can be understood as incubators of inter-tribal solidarity and emerging pan-aboriginal identities at national and international scales. Bailey explores these themes through text-based works, including flags which conjoin formal aspects of the Aboriginal flag with the sentence "Wake Up Relatives" used by leaders to muster the water protectors to pre-dawn prayers and front-line actions during his visit to North Dakota last October. In these works the distinctive and highly elemental design of the Aboriginal flag comes to the fore, posing a visual synecdoche for the movement from concrete circumstances and local traditions to unifying abstractions and symbols. Transposing its signature red, black and yellow colours as fields for language re-opens questions of relation to their modernist cousins. Against the rise of nationalist movements worldwide, the flags become a series of problem objects which ask viewers to reassess the modern project 100 years in, and perhaps to reconsider their definition of 'relatives' in much deeper frames of time.
Coinciding with the show will be a number of related events, including lecture/performances by Dave Hullfish Bailey at Monash University, Caulfield Campus on Thursday 16 March and RMIT Centre for Art, Society and Transformation on Friday 17 March, while on Saturday 25 March the Australian Centre for Contemporary Art will host the official launch of Dave Hullfish Bailey + Sam Watson: CityCat Project 2006–2016, edited by Rex Butler and published by the Sternberg Press. The launch by Aboriginal activist and historian Gary Foley will be preceded by a Q&A session involving Foley and Sam Watson, both of whom were key participants in the Aboriginal Embassy media event, and be mediated by Paola Balla, co-curator of ACCA's current Sovereignty project.
Dave Hullfish Bailey + Sam Watson: CityCat Project 2016
Performance: CityCat ferries, Brisbane River
3 December, 2016, 1–5pm
Exhibition: Pestorius Sweeney House, Brisbane
3 December 2016 — 28 January, 2017
Opening 3 December, 2016, 6pm
Pestorius Sweeney House, Brisbane
David Pestorius is pleased to announce the tenth anniversary staging of Maiwar Performance by Los Angeles artist Dave Hullfish Bailey and Brisbane Aboriginal community leader Sam Watson. Immediately following its original staging in December 2006, Watson, who is also a critically acclaimed writer, declared the performance to be a manifestation of the local Dreaming that should be periodically re-enacted into the future. This is the fourth occasion that the event has been staged.
The 2016 iteration of the Maiwar Performance, which may be experienced on CityCat ferries travelling between the West End and St Lucia terminals between 1–5pm on 3 December, will be accompanied by an exhibition of recent material works from the CityCat Project. The exhibition involves the complex juxtaposition of photo-works, including recent images of the camps at Standing Rock North Dakota, where representatives of over 200 First Nations are currently gathered in support of the Oceti Sakowin (Sioux Nation), whose sacred sites and water supplies are threatened by the construction of a nearby oil pipeline. Thought to be the largest gathering of the Sioux Nation since the Battle of the Little Bighorn against Custer in 1876, the camps and frontline actions acutely focus debates around the rights of Indigenous people over their ancestral lands.
In Bailey's photographs of the Standing Rock camps, Harold Thomas' Aboriginal Flag is seen flying proudly near the main entrance. Alongside these photographs, Bailey will present archival images showing Sam Watson at the Aboriginal Tent Embassy in Canberra in 1972 (generously provided by renowned Aboriginal activist and historian Gary Foley), while a third grouping of photographs document aspects of the 2012 iteration of the Maiwar Performance. Through juxtapositions of these images, Bailey frames parallels between the birth of the Aboriginal land rights movement and the current resurgence of sovereignty struggles at Standing Rock, while also positioning the Maiwar Performance within that larger context. In Bailey's exhibition the Aboriginal Tent Embassy and Standing Rock encampment can also be understood as incubators of inter-tribal solidarity and emerging pan-aboriginal identities at national and international scales, with the distinctive design of the Aboriginal flag becoming a visual touchstone for the movement from concrete circumstances and local traditions to unifying abstractions.
The exhibition will open at the Pestorius Sweeney House at 6pm on Saturday 3 December and be open by appointment only until 28 January 2017.
The Maiwar Performance is generously sponsored by the Brisbane City Council.
Drewe & Pestorius, Sweeney House (1966),
photo: Gabriel Poole, 1967.
50: Drewe & Pestorius' Sweeney House
27 August – 26 November, 2016
Pestorius Sweeney House, Brisbane
Curated by Dr Andrew Wilson (Head, The Leeds School of Architecture), the exhibition 50: Drewe & Pestorius' Sweeney House celebrates the 50th anniversary of the modern house that Brisbane architect Geoff Pestorius (1930–1968) designed for his brother-in-law Robert Sweeney. In a city that continues to fetishize the local 'tin and timber' vernacular building tradition and it's dubious legacy, it is unusual to see Modernist masonry houses make it to fifty unscathed. Despite being more at one with the sub-tropical climate and evidencing a spatial sophistication that eclipses so much of what passes for domestic architecture today, these remarkable houses are still not singled out for heritage protection, but allowed to fall victim to rampant redevelopment.
Located on a modest corner block high on Hamilton Hill, the Sweeney House is perhaps the best surviving example of how post-war Brisbane architects adapted the lessons of the Bauhaus to local climatic and geographic conditions. Marked by an abundance of floor-to-ceiling glazing, house and garden blur into one another while the open-plan is a case study in cross-ventilation, natural lighting and spatial fluidity.
The important outdoor spaces of the Sweeney House, which were realised in cooperation with pioneering Brisbane landscape architect Arne Fink (1930–1993), reflect a balance of Indigenous, Oceanic and Asian species, with many of the original plantings still extant. Much of the original furniture also remains in situ and has been augmented with period pieces acquired locally from Danish Quality Furniture and the Craftsman's Market, as well as rare constructivist chairs by Campbell Scott and a small pine table by Robert Dunlop.
The exhibition, which will be presented in the stairhall gallery (originally designed to accommodate Robert Sweeney's art collection), will include original drawings, blueprints and vintage photographs taken by architect Gabriel Poole soon after the house was completed in 1966. In addition, a book by Leni Hoffmann with essays by Dr Wilson, Jonathan Kopinski and David Pestorius is being produced to accompany the exhibition.
Please note that attendance at this exhibition is by appointment only and that persons wishing to see it should contact David Pestorius on (07) 3262 4870 to arrange a suitable time.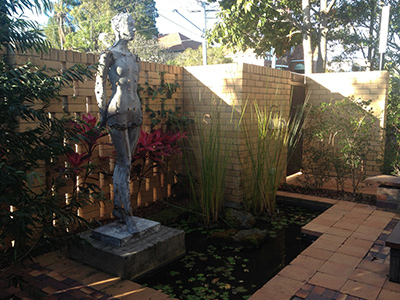 Heimo Zobernig
6 August – 3 December, 2016
Pestorius Sweeney House, Brisbane
If there was ever any doubt about Mies van der Rohe's logic in choosing a life-size bronze for his Barcelona Pavilion (1929), it was resolved once and for all when Philip Johnson invited the architect to design the dust-jacket for the monograph accompanying his 1947 MoMA retrospective. For that small but significant commission, Mies chose a side view of the Barcelona courtyard animated by Georg Kolbe's vampiric sculpture 'Morning', its hands shielding its eyes in an echo of the pavilion's roofline, its generous overhanging eaves providing shaded respite from the bright Catalan sun.
It is hard not to see Mies' selection of the Kolbe sculpture for his pavilion in Barcelona as a kind of architectural doubling. And not only on account of the revealing dust-jacket photograph. Two years after his Barcelona exhibition, Mies would again collaborate with Kolbe on a public display: his equally important, but less well-known, Berlin Exhibition House (1931). For that project, Mies also chose a Kolbe figure that served a mirroring function, it's ambulatory form offering a clue to the radical spatial fluidity that so characterised the architect's work.
Since 1999 Heimo Zobernig has visited and exhibited at the Pestorius Sweeney House in Brisbane on numerous occasions. Indeed, more often than any other artist, while his painted carpet for the living/dining room is now a permanent installation. Zobernig knows well the nuances of the house, with its walled court, pond, sculpture base, and, of course, its fluid open plan and blurring of inside and out, all taking their cue from Mies. For his 2016 exhibition, the artist puts this knowledge to use as he explores the place of sculpture in modern architecture, updating the intertwined story of Mies and Kolbe.
While Zobernig has for many years experimented with readymade mannequins, in 2015 he began to work in bronze, casting and conjoining male and female components along with 3D scans of his own head to create strangely androgynous beings. However, rather than cutting the casting sprues flush and sand-blasting the residue and welds to conceal the process, the artist toys with these aspects of finish in highly inventive and unexpected ways. And, as with other strands of the Zobernig's vast oeuvre (think, for example, of his grid paintings that incorporate the masking tape into the work), a complex imaginative space opens up for the viewer, who, to follow the artist's logic, finally 'finishes' the work.
Heimo Zobernig was born in 1958 in Mauthen and lives in Vienna, where since 2000 he has been Professor of Sculpture at the Academy of Fine Arts. He has participated in Documenta 9, 10 and 11, while in 2010 he was awarded the prestigious Kiesler Prize for architecture and the arts. In 2016, Zobernig's architectural intervention for Josef Hoffann's Austrian Pavilion at the 56th Venice Biennale was awarded the Roswitha Haftmann Prize, Europe's best-endowed prize in the field of contemporary art.
Please note that attendance at this exhibition is by appointment only and that persons wishing to see it should contact David Pestorius on (07) 3262 4870 to arrange a suitable time.