Recent, Current and Upcoming
David Pestorius at Spring 1883
- Other Locations
Martin Kippenberger in Sydney
- Pestorius Sweeney House
Lyrics of Robert Forster
- Other Locations
Heimo Zobernig in Australia 1999–2015
- Pestorius Sweeney House
Ant Farm 1976–1978 Australia
- Other Locations
________________________
David Pestorius at Spring 1883
9 — 12 September, 2015
The Establishment, Sydney
David Pestorius is pleased to again announce his participation in Spring 1883, this year at The Establishment below Martin Place towards Circular Quay.
While this downtown Sydney locale is today associated with business, finance and politics, it hasn't always been so. In the 1930s and '40s it was the epicentre of Sydney's avant-garde, Grace Crowley's studio situated just around the corner on George Street, one of many in the warren of buildings back up from the water. Then in the 1970s, after the artists had left, The Rocks was the backdrop to Ant Farm's performance Ned Telly and The Golden Spanner (1976). Commissioned by the Nine Network's A Current Affair, it was set in the shadow of the Harbour Bridge and brought to Sydney the American conceptualists' iconoclasm first seen the previous year at San Francisco's Cow Palace when they presented their notorious Media Burn (1975).
Pestorius' suite at Spring 1883 will conjure these moments with works by Ant Farm (San Francisco), Paul Bai (Brisbane), A.D.S. Donaldson (Sydney) and Melinda Harper (Melbourne).
In his work for the fair, A.D.S. Donaldson will show a new video/multiple, which brings together little known documentary footage of Crowley with the remarkable improvisations of Brisbane composer and guitarist Ed Kuepper (ex The Saints) performing around the quay at the Sydney Opera House.
For their part, Ant Farm will be represented by a rarely seen installation of Ned Telly and The Golden Spanner. Often exhibited as a video in Ant Farm retrospectives and surveys of media art (with Transmission: Legacies of the Television at the National Gallery of Victoria in Melbourne the latest instance of this), for Spring 1883 Pestorius will present The Golden Spanner itself, a sculpture last exhibited 40 years ago in the 1976 Biennale of Sydney at the Art Gallery of NSW.
Melinda Harper, on the other hand, one of the most innovative inheritors of the Crowley legacy, will be exhibiting a large painting, its wave-like composition a dizzying mix of colour that is both optical and material. That Harper is currently the subject of a mid-career survey at the Heide Museum of Modern Art, where in the hands of Sidney Nolan, Ned Kelly was first mythologized in paint, only enhances its shimmer.
Completing the presentation will be Paul Bai's Other Side The Ocean (20004), a small painting that further animates the maritime theme running through Pestorius' presentation for Spring 1883.
We look forward to meeting you at The Establishment in September.
For further information, please contact David Pestorius on (07) 3262 4870.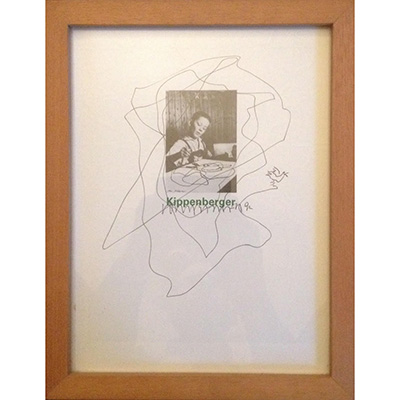 Martin Kippenberger in Sydney
4 June – 25 July, 2015
Pestorius Sweeney House, Brisbane
The week before Christmas, 1992, the German artist Martin Kippenberger was in Sydney. He had gone there to participate in The Boundary Rider: 9th Biennale of Sydney. You would be unaware of this, however, if you were to consult the myriad of literature about Kippenberger's life and art published before and after he died in 1997. One of the most documented lives in art of the late 20th century, from his first survey catalogue Kippenberger (1997), published by Benedikt Taschen while the artist was alive, to the recently published initial volume of the catalogue raisonné of his paintings Kippenberger: Werkverzeichnis Gemälde IV: 1993-1997 (2014), there is not a single indication that the self-described "travelling salesman" was ever in Australia.
Yet Martin Kippenberger did go to Australia. At the Biennale of Sydney in 1992, then one of only four in the world, Kippenberger exhibited his photographic work That on tableproblem is hanging on the wall (1992), from the catalogue said to be part of the collection SUMAK, Tübingen. And while he was in Sydney he also completed nine drawings, each on a page of one of his remarkable and now famous artist books. A kind of free sample, the drawings range across the spectrum of his subjects and motifs from the 'Little bird' and 'Fred the frog' to portraiture and self-portraiture. Drawn then on a readymade of his own making, when they were completed they were given to the books' owner, the Sydney artist A.D.S. Donaldson. These drawings, their gifting and his phantom trip to Australia in 1992, are the subject of the exhibition Martin Kippenberger in Sydney, curated by Donaldson at the Pestorius Sweeney House, Brisbane.
For further information, please contact David Pestorius on (07) 3262 4870.
Lyrics of Robert Forster
Edited by David Pestorius
Cover by Heimo Zobernig
To celebrate the occasion of Heimo Zobernig's 15 year survey of his Australian works, the artist has collaborated on the production of a limited edition artist's book of lyrics by Brisbane singer-songwriter Robert Forster.
Edited by David Pestorius, the book is the first devoted to Forster's lyrics and includes more than 50 songs from all phases of his now four-decade long career with The Go-Betweens (1978–1989; 2000–2006) and as a solo artist (1990–1999; 2006–).
The selected songs are grouped thematically under headings (eg. 'Colour', 'Desire', 'Divide', 'Conquer', 'Contempt', 'Place', 'Point of View', to cite just some), which serve to enhance the often oblique nature and interpretative potential of Forster's lyrics. The book adopts a rough truth-to-materials approach, with the typography and layouts from original album sleeves and CD booklets redeployed where possible. The book also includes a brief biographical entry, a discography, and a small selection of illustrations that constitute a parallel narrative, which points up Forster's historical engagement with artists and the world of art.
Lyrics of Robert Forster is published by KANN-Verlag, Frankfurt, 2015, 21 x 14.7 cm, b&w, 140 pages, perfect bound, with offset printed cover by Heimo Zobernig, in a limited edition of 120 copies. Copies of the edition are available from the
publisher
and from
World Food Books
.
Heimo Zobernig in Australia 1999–2015
11 February — 25 April, 2015
Pestorius Sweeney House, Brisbane
On the eve of Heimo Zobernig's spatial intervention for the Austrian Pavilion at the Venice Biennale 2015, David Pestorius is exhibiting a small survey of the Viennese artist's work in Australia, a period which now spans more than 15 years.
Heimo Zobernig (* 1959) is one of the most important inheritors of the Minimal-Conceptual Art legacy. His work, which has had a central presence in Documenta 9 (1992), Documenta 10 (1997) and Documenta 11 (2002), traverses a broad range of media — painting, sculpture, architecture, installation, video, design, and many others besides — critically continuing the reflexive program of Modernism. Adopting an approach that is playful, confounds expectation and is sometimes hilarious, there is nevertheless one constant in his work: he is always chipping away at the modes and mechanisms of the art system as we experience it.
Since first travelling to Australia in 1999 to oversee the construction of a 36 metre long signage piece for Brisbane's SouthBank Corporation, the artist has returned to participate in the Biennale of Sydney in 2004, the same year he collaborated with Ed Kuepper, co-founder of Australian punk group The Saints, on a video/performance that toured nationally and internationally. Zobernig was next in Australia in 2006 for a solo exhibition at Sydney's Artspace, which surveyed his intense engagement with the early Minimal-Conceptual work of Sydney artist Ian Burn (1939–93). Later in 2006 Zobernig made another large signage piece in Brisbane, this time for the TURRBAL-JAGERA exhibition at the University of Queensland Art Museum, while in 2008 he designed a functioning bar — an aspect of the artist's work cited by Nicolas Bourriaud in his influential text Relational Aesthetics — at the Institute of Modern Art for The Brisbane Sound exhibition. More recently, one of Zobernig's projection screen sculptures was the centrepiece of Reinventing the Wheel: The Readymade Century at Monash University Museum of Art in Melbourne in 2013, while Brisbane's MAAP–Media Art Asia Pacific presented a key Zobernig video/sculpture in its touring exhibition LandSeaSky: Revisiting spatiality in video art at venues throughout Australia and South East Asia in 2014-15.
This is a mere sampling of Heimo Zobernig's work in Australia, but it amply demonstrates the depth and sustained nature of his engagement locally. Remarkably, Australia's major art museums have felt unable to acquire the artist's work. One can only hope that Zobernig's Venice pavilion together with this exhibition will make clear the necessity to incorporate his work into our public collections.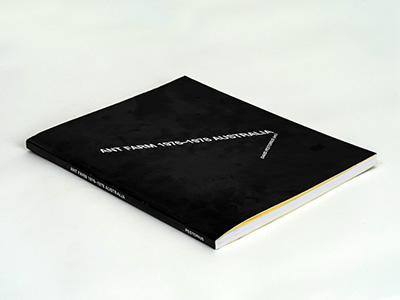 Ant Farm 1976–1978 Australia
16 August 2014, 5pm
David Pestorius at Spring 1883, Suite 130, Hotel Windsor, Melbourne
The San Francisco conceptualists Ant Farm (1968–1978) are famous for their radical architecture (The House of the Century, 1973), iconic land art (Cadillac Ranch, 1974), and pioneering video/performance (Media Burn, 1975).
Much less well-known are Ant Farm's projects in Australia. Yet it is undeniable that their 10 week visit to Australia in mid 1976 turned the group upside down in more ways than one. Importantly, the focus of their work shifted, with Oceania not only becoming an important base, but also a critical concept for the group. Central to this shift was perhaps Ant Farm's most ambitious project, the Dolphin Embassy (1974–1978), and in January 1977 the group's co-founder Doug Michels moved to Sydney to establish a consulate there.
Until now, the historical accounts of Ant Farm have misrepresented and misunderstood the nature and extent of the group's work in Australia. Equally, Ant Farm's projects are invisible in any account of Australian art.
Ant Farm 1976–1978 Australia is the first book devoted to the activities and critical reception of Ant Farm in Australia. It adopts a form favoured by Ant Farm — the time-line/photo-collage/book — and critically builds upon their monumental artist's book Dolphin Embassy (Log: 1976–1978), Sydney, Australia.
Ant Farm 1976–1978 Australia is published by KANN-Verlag, Frankfurt, 2014, 25 x 18 cm, b&w, photocopies, 155 pages, perfect bound, offset printed cover, edited by David Pestorius with cover by Liam Gillick, in an edition of 100 copies.
Ant Farm 1976–1978 Australia will be launched at Spring 1883 by Dr Edward Colless (Head of Critical and Theoretical Studies, School of Art, VCA), on Saturday 16 August at 5pm. After the launch, which is held in co-operation with World Food Books, all enquiries should be directed to the publisher.