Recent, Current and Upcoming
ANTI–MUSIC: 1979–1983
- Pestorius Sweeney House
David Pestorius Projects at Sydney Contemporary 13
- Other Locations
Gary Warner
- Pestorius Sweeney House
Joseph Marioni
- Pestorius Sweeney House
Jens Haaning
- Pestorius Sweeney House
Another Time
- Pestorius Sweeney House
Dave Hullfish Bailey—CityCat Project 2012
- Pestorius Sweeney House
REPAINT
- Pestorius Sweeney House
Sarah Morris
- Pestorius Sweeney House
________________________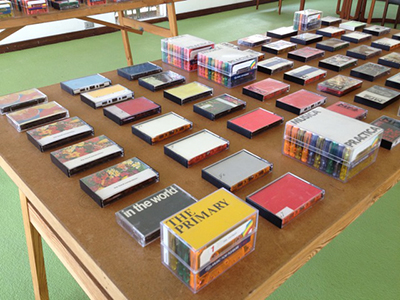 ANTI–MUSIC: 1979–1983
30 October—13 December, 2013
Pestorius Sweeney House, Brisbane
David Pestorius is pleased to present ANTI–MUSIC: 1979–1983, the most comprehensive retrospective of this important Australian artist collective, which in the early 1980s gained international recognition for its conflation of experimental music, punk and post-conceptual strategies.
An umbrella term for a large number of recording groups comprised mainly of artists with little or no musical training, ANTI–MUSIC was founded in 1979 by John Nixon, who also co-ordinated its activities over the five year duration of the project. Experimenting with a wide-range of musical genres, including folk, rock, pop, electronica, improv, film music, noise, muzak, and even opera, ANTI–MUSIC eschewed live performance, instead preferring anonymity and concentrating on DIY cassette-tape recording processes. Welded to all this was Pneumatic Drill, a publishing project initiated by Nixon in 1981 to elaborate the theoretical concerns of the enterprise. As with the recordings of ANTI–MUSIC, the Pneumatic Drill had many contributors, including Tony Clark, Paul Taylor, Peter Tyndall, Gary Warner, and Jenny Watson, to name just some of them.
During its lifetime, ANTI–MUSIC was presented in diverse forms and contexts, including Art Projects, V Space and the Clifton Hill Community Music Centre in Melbourne; the Institute of Modern Art (IMA), Q Space and Radio 4ZZZ-FM in Brisbane. In 1982 the project was included in Bill Wright's Biennial of Sydney, the first time a large international survey of contemporary art — anywhere — featured a section devoted to recent tendencies in experimental music and sound art. Only a few months earlier, an ANTI–MUSIC sampler was released by the innovative English cassette-magazine Audio Arts. In 2004 this sampler was acquired by The Tate and can today be accessed on its website. While the vast body of work that is ANTI–MUSIC predominantly consists of master cassette tape recordings (here presented en masse in a display conceived by Nixon), two commercially available cassettes were produced in relatively small editions in advance of the Audio Arts release. In both instances, these cassettes were collaborations with Brisbane's foremost post-punk groups The Go-Betweens and Out Of Nowhere, and included printed sleeves that featured graphics by Jenny Watson, Gary Warner, and Grant McLennan (The Go-Betweens).
Retrospective appraisal of ANTI–MUSIC came early with a survey of its proceedings having a strong presence in Know Your Product (IMA, Brisbane, 1986), Ross Harley's pioneering account of 'underground' culture in Brisbane during the punk and post-punk years. Then, in January 1993, the IMA presented ANTI–MUSIC 'in concert' over two nights on a bill headlined by Robert Forster (The Go-Betweens). The project was next the subject of a retrospective survey in 1999 in the exhibition John Nixon: Music 1979–1999 at Berlin's Künstlerhaus Bethanien, while, more recently, aspects of ANTI–MUSIC were included in The Brisbane Sound (IMA, Brisbane, 2008) and Melbourne >< Brisbane: Punk, Art and After (Ian Potter Museum of Art, Melbourne, 2010). Since these exhibitions a new generation has developed a keen interest in the recordings and presentational strategies of ANTI–MUSIC, thus underscoring the timely nature of this exhibition.
For further information, please contact David Pestorius on (07) 3262 4870.
David Pestorius Projects at Sydney Contemporary 13
19–22 September, 2013
Carriageworks, Sydney
David Pestorius Projects is pleased to announce its participation in the inaugural edition of 
Sydney Contemporary
 between 19–22 September.
Australia's new international art fair presenting modern and contemporary artwork, Sydney Contemporary 13 will present over 80 Australian and international galleries at the historical Carriageworks complex in Sydney's inner-west. Underscoring this international flavour, the David Pestorius Projects booth will be dominated by the subtle, light-infused monochromes of New York painter Joseph Marioni (*1943). Described by the doyen of contemporary art criticism, Michael Fried, as "paintings in the fullest and most exalted sense of the word", Marioni's work was last shown in Sydney at the Art Gallery of New South Wales in 2001. Alongside the Marioni paintings at Sydney Contemporary 13, Pestorius will present a selection of recent and not-so-recent works by artists he has long been associated with, including Paul Bai (Brisbane), Dave Hullfish Bailey (Los Angeles), Janet Burchill and Jennifer McCamley (Melbourne), A.D.S. Donaldson (Sydney), Andreas Exner (Frankfurt), Jens Haaning (Copenhagen), Melinda Harper (Melbourne), Gerold Miller (Berlin), Mark Webb (Brisbane), and Heimo Zobernig (Vienna). Augmenting this selection will be a few carefully chosen surprises from the gallery stockroom.
An important feature of the display will be a number of limited editions, including a new multiple by Danish conceptualist Jens Haaning (*1965) that will have an especially reflexive dimension in the fair context. Hand-painted IKEA copies of Alvar Aalto's famous stacking stool, the Haaning multiple is undoubtedly a parody of the deluxe item and what Marx called the "fetish character" that normally attaches to art. At the same time, it appears to reassert the pre-eminence of the original over its copy, and will perhaps remind Sydney art audiences of a moment, not so very long ago, when the city made an important contribution to international debates around strategies of appropriation in contemporary art.
Finally, for the curated "Installation Contemporary" sector of the fair, Pestorius will present a new work by A.D.S. Donaldson (*1961). From the outside a more or less minimalist box, Donaldson's Abstrakt Kabinen (2002-13) functions at the overlap of the avant-garde's engagement with so-called little architecture — think El Lissitzky's Kabinett der Abstrakten (1926) or Oskar Schlemmer's Lackkabinett (1941) — and contemporary installation, although Donaldson's work is remarkably low-tech. On entering, a light comes on and the viewer is able to manipulate a number of sliding panels on which a small collection of abstract paintings is hung. They are thus able to arrange the space to their own liking and, once seated, enjoy the work at their leisure while a small exhaust fan extracts stale air. Interactive and straightforward, Donaldson's work offers the viewer a radically intimate engagement with art and its structures. 
For further information, please contact David Pestorius on (07) 3262 4870, or visit
sydneycontemporary.com.au
.
Gary Warner
3 August—14 September, 2013
Pestorius Sweeney House, Brisbane
David Pestorius is pleased to present an exhibition of new work by Sydney artist Gary Warner (*1957).
In the late 1970s, Warner was a central figure in Brisbane's vital post-punk and avant-garde art scenes. At the time, he lived a kind of 'art-life' touched by the provocations of Dada, the Situationists, and, of course, Punk. However, unlike in New York and London, where Punk soon became confused with fashion and evolved into an academic musical genre, in Brisbane it was an act of resistance against a repressive State government and an ultra-conservative society with its retrograde art and culture. Warner's early work, much of it collaborative, was the product of this grim situation. Functioning outside the institutionalised frameworks of official art (eg. galleries, museums, and contemporary art spaces), it took many forms, including mail art, 'zines, record covers, artist pages, Polaroid photography, Super 8 film, and elaborate conceptually themed environments for performances by the important Brisbane post-punk group Zero.
Significant within the scope of Warner's early work was an experimental music project known as Forced Audience. Inspired by the Cagean notion of "all sound is music", Forced Audience was briefly affiliated with John Nixon's Anti-Music, while in late 1981 it was included on a sampler released by the important English cassette magazine Audio Arts. Sound has continued to be an important locus within Warner's creative practice and for his latest exhibition he will present 'WoodWorked + SoundShell', an hour-long soundscape meditation on the forest origins of timber and the work of making objects with wood. Derived from Warner's library of field recordings, the soundscape is contained within, and emanates from, a small laser-cut plywood geodesic dome designed by the artist. A site-specific wall drawing, which incorporates custom-designed hub elements developed by the artist for construction of larger timber geodesic domes, will accompany the soundscape.
Gary Warner held his first one-person exhibition in August 1982 at One Flat Exhibit, the pioneering Brisbane artist-run space he helped establish together with Jeanelle Hurst and others. In April 1986, Peter Cripps commissioned a new installation by Warner for Brisbane's Institute of Modern Art, while later that same year the artist returned to the IMA, where diverse aspects of his early work had a strong presence in Know Your Product, Ross Harley's groundbreaking survey of 'underground' culture in Brisbane during the punk and post-punk years. Then, in 1989, together with long-time collaborator Adam Wolter, Warner took on the challenging Gallery 14 project space at the Queensland Art Gallery. Since those heady days, Warner has continued to maintain an independent studio, publishing, and exhibition practice, while his early work and its links to the contemporaneous production of John Nixon was surveyed in The Brisbane Sound (David Pestorius Projects/IMA, Brisbane, 2008), Melbourne >< Brisbane: Punk, Art and After (Ian Potter Museum of Art, Melbourne, 2010), and POLAROIDS: Post-Punk Photography in Brisbane 1979–1982 (Pestorius Sweeney House, 2012).
For further information, please contact David Pestorius on (07) 3262 4870.
Joseph Marioni, "Yellow Painting", 2013, acrylic paint on linen on stretcher, 102 x 107 cm
Joseph Marioni
11 May— 20 July, 2013
Pestorius Sweeney House, Brisbane
David Pestorius is pleased to announce an exhibition of recent work by New York painter Joseph Marioni (*1943).
Joseph Marioni is one of the foremost contemporary exponents of a modern tradition in painting that has its roots in the Abstract Expressionism of the New York School. Seamlessly integrating the liquid paint of Jackson Pollock, the intense colour of Rothko and Newman, and the sensuous physicality of Clyfford Still, Marioni's exquisite light-infused paintings demonstrate the ongoing vitality of an art grounded in the 'truth to materials' dictates of Modernism and the concentrated act of looking.
In 1998 Marioni's most insightful and eloquent critic, Michael Fried, described his monochromes as "paintings in the fullest and most exalted sense of the word", while, more recently, he declared Marioni to be "the strongest painter of whom I have knowledge at work anywhere today." They are remarkable claims that only someone with Fried's own exalted status as a critic could make. For his Brisbane exhibition, Marioni is showing two new paintings, one a bush green colour, the other a golden yellow. Made with the predominantly glazed gallery of the Pestorius Sweeney House in mind, these jewel-like paintings will 'come alive' amidst the abundant but constantly changing natural light of the room. Indeed, as Fried has observed, there is something "almost Eastern" about Marioni's paintings, which can be expected to resonate strongly with the Japanese-influenced International Style architecture and related garden design. The painter's exhibition also continues a theme running through recent shows at the Pestorius Sweeney House, one that activates questions around nationhood, its colours and their codes.
Joseph Marioni first caught the attention of the international art world in 1975 with a solo exhibition at Artists Space, New York, selected by Brice Marden. In the 1980s, he was one of the leaders of a movement known as Radical Painting and was closely associated with the pioneering German gallerist Rolf Ricke. This period reached its apotheosis in 1988 with a solo exhibition at the Städtisches Museum Abteiberg, Mönchengladbach, while the 1990s were marked by important surveys of his work at the Kunsthalle Baden-Baden (1995), Vienna Secession (1996) and the Rose Art Museum at Brandeis University (1998). In 2000, Marioni was included in that year's Whitney Biennial, a show that was soon after followed by the painter's first solo exhibition in Australia at the UQ Art Museum in Brisbane. Marioni's most recent museum show was in 2011 at The Phillips Collection in Washington, D.C., while a room of his paintings is currently on display (until 23 June) in the two-artist exhibition Marioni/MacPherson, curated by Rex Butler at the UQ Art Museum.
For further information, please contact David Pestorius on (07) 3262 4870.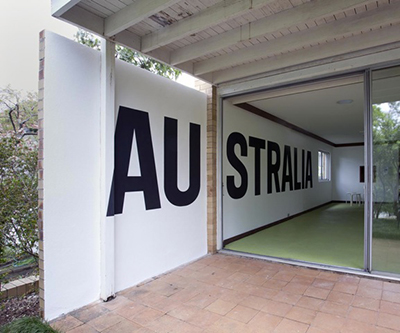 Jens Haaning
2 March-27 April
Pestorius Sweeney House, Brisbane
David Pestorius is pleased to present a new exhibition by Copenhagen-based artist Jens Haaning (*1965).
Central to Haaning's project is a socio-political dimension that is highly conceptual, non-didactic, and often Zen-like in its simplicity and degree of abstraction. The artist opens up to analysis the structures of modern society and the dynamics of power via key themes, including immigration, racism, intercultural dialogue, nationalism, and the relation between global capitalism and local economies.
Since 2004, Haaning has painted the name of the country in which he is exhibiting on gallery walls in giant black capital letters. The effect is intriguing: the typography appears anonymous yet has been specially designed, and at over a metre high with nothing else on display in the gallery, it has a strangely commanding presence: a bit like encountering a mirror, one feels self-conscious confronted by our own sense of place, history, and the here and now. Haaning's 'Australia', however, has a very particular resonance, coming as it does when questions around Indigenous sovereignty, immigration, and 'Islamisation' (rendered acute by the recent visit of controversial Dutch politician Geert Wilders), are increasingly in the public consciousness. For Brisbane, Haaning will tap into this moment, extending the 'Australia' wall beyond the limits of the gallery. The end result is deliberately confusing — it appears as if the builder of the house has misread the plans — and serves to complexify the inside/outside experience of the International Style architecture and associated sense of transparency and openness, which is so indebted to Modernist ideals of the public sphere.
Jens Haaning emerged in the 1990s as part of the so-called 'Nordic Miracle' — the most widely exhibited generation of Scandinavian artists in history. Closely associated with Nicolas Bourriaud's 'Relational Aesthetics', Haaning was included in Traffic (CAPC Bordeaux, 1996), the exhibition that launched the phenomenon, as well as several of the influential curator's more recent projects. Haaning first travelled to Brisbane over a decade ago to participate in Parallel Structures (David Pestorius Projects, Brisbane, 2001), where he realised the intra-city light bulb exchange now in the Sammlung Haubrok, while the following year a related work was included in Documenta 11. In 2004 the artist was again in Australia, this time to participate in the Biennale of Sydney, while in 2004–05 he collaborated with one of the 'Godfathers' of Punk, Brisbane guitarist Ed Kuepper (The Saints, Nick Cave and The Bad Seeds, etc.) on a performance that toured internationally, including to the Foundation Cartier in Paris and Vienna's famous Burgtheater and Film Museum.
Since 2007, Jens Haaning has had important solo exhibitions at the Whitechapel Gallery, London; Secession, Vienna; Institut d'art contemporain, Villeurbanne/Lyon; and the San Francisco Art Institute. The artist's last solo exhibition in Brisbane was at the Pestorius Sweeney House in May 2003, when he removed the gallery windows only to re-install them facing 'inside out'. The current project has been generously sponsored by the Danish Agency for Culture and PGH Bricks + Pavers.
For further information, please contact David Pestorius on (07) 3262 4870.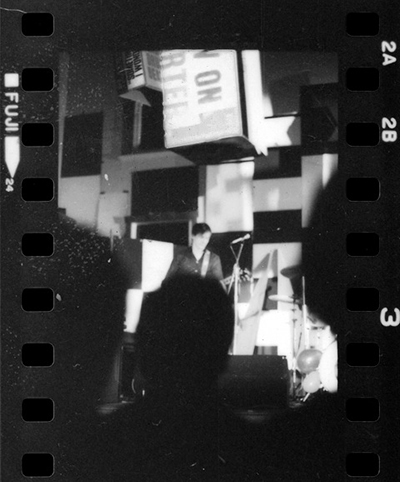 Another Time
26 January—23 February
Pestorius Sweeney House, Brisbane
In the early 1980s it was not uncommon for performances by Brisbane's post-punk groups to be accompanied by elaborate conceptually themed environments. Another Time is structured around one such event. Held at the Baroona Hall on July 4, 1980, "The Sincerity Ball" featured several groups, including Zero, The Go-Betweens and the Four Gods (the so-called 'Brisbane Sound'), and a visual polemic that took its cue from the black and white check motif deployed by the 2-Tone label groups (The Specials, Madness, etc.) as code for the racial diversity and musical hybridity that so defined this highly politicised milieu.
Brisbane has undergone many changes since 1980. Back then it was ruled by an authoritarian State government, which subjected Indigenous Australians, but also those involved in the emerging post--punk culture, to brutal treatment at the hands of its police force. This was the context that saw the 2-Tone check explode into life via wall paintings, tattoos, shaved heads, and black-and-white dress. From the ceiling hung illuminated constructions made out of newspaper day bills, their hyperbolic pronouncements serving to further dramatise the situation. And, finally, there were the Super 8 films of Gary Warner (*1957), one of the architects of the event. Screened as Zero performed, Warner's films functioned as a kind of expanded cinéma vérité, documenting and intervening in the apparently madcap activities of those both on stage and off. Frequently sped-up, recalling the slapstick of Charlie Chaplin, they speak of a carefree existence brim-full of humour and poetic moments: a life, in other words, wildly at odds with the otherwise grim reality that was Brisbane circa 1980.
In 1987 the art historian Urszula Szulakowska surveyed the intensely collaborative practices of Brisbane artists over the previous decade and saw in them a Dadaistic impulse, something increasingly considered critical to relational and participatory art today. It is therefore timely that we remember "The Sincerity Ball", but also because the questions it was asking, all those years ago, are still with us. That the exhibition commences on Australia Day is designed to render those questions more acute. 
Another Time has been realised in close co-operation with Gary Warner whose Super 8 films for performances by Zero would later feature in Know Your Product (IMA, Brisbane, 1986), Ross Harley's pioneering survey of crossovers between art and popular culture in Brisbane during the punk and post-punk years. Since then they have been presented in The Brisbane Sound (IMA, Brisbane, 2008), Queensland Art 2009 (Pestorius Sweeney House, Brisbane, 2009–10), and, most recently, in Melbourne >< Brisbane: Punk, Art and After (Ian Potter Museum of Art, Melbourne, 2010), where the installation here first began to take shape. Another Time also builds on Dave Hullfish Bailey's recent exhibition of works from his collaborative CityCat Project and includes works from that show, as well as contributions from Liam Gillick, Anne Wallace, and Heimo Zobernig.
For further information, please contact David Pestorius on (07) 3262 4870.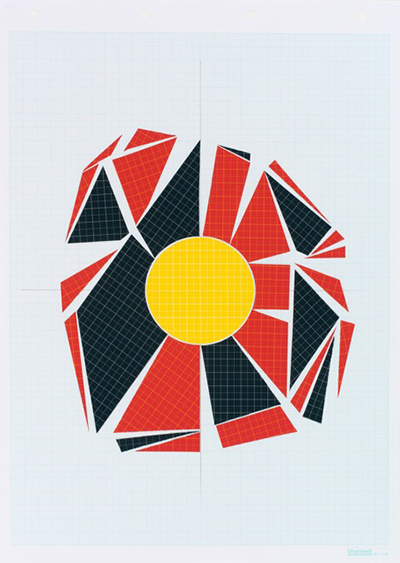 Dave Hullfish Bailey—CityCat Project 2012
Saturday 8 December, 1–5pm
Pestorius Sweeney House, Brisbane
Exhibition
CityCat ferries, Brisbane River
Performance with Sam Watson
Saturday 8 December, 6–9pm
Pestorius Sweeney House, Brisbane
Roundtable with Sam Watson, Ian McLean, Michele Helmrich, and Rex Butler
For his series of variations on Harold Thomas' (Aboriginal) flag, Proposals for some possibly useful reconfigurations (2011), Dave Hullfish Bailey was inspired, he says, by the 18-foot skiff, the 'Aberdare', which used technological innovations (and profits from the Aberdare Colliery near Ipswich) to dominate racing on the Brisbane River in the 1930s. What Bailey proposes is a possible set of sails for its descendants on today's televised racing circuit, each of which would be composed of a cut-up and re-ordered version of Thomas' flag. We have a small spinnaker for running, which is when a boat sails downwind with the wind behind it. We have a larger asymmetrical spinnaker for reaching, which is when the boat sails across or perpendicularly to the wind. And we have a jib or headsail for beating, which is when the boat engages in successive tacks back and forth in an attempt to sail into the wind. Bailey first came across the story of the 'Aberdare' through research stemming from his 2006 CityCat Project, a collaboration with Indigenous activist and playwright Sam Watson. In his Project, Bailey worked with Watson to have the Brisbane ferries at one point of their route momentarily veer off course, slow down and face Aboriginal actors standing in the Boundary Street Park, a historical landmark for the local Turrbal and Jagera people. Importantly, Watson hung a large version of Thomas' flag at the site, which is significant not only for its Kurilpa Dreaming but because it lies on the historical curfew line that prohibited Aboriginal people from entering the city after dark. (Here those three sailing terms, "running", "reaching" and "beating", can also be understood to describe the interaction between the Indigenous population of Brisbane and the new European colonisers.)
Of course, looking at Bailey's 22 paper collages, we cannot but be struck by the obvious iconoclasm of his Proposal, almost in the literal religious sense. The burning or defacement of the flag, if not always strictly illegal, is usually heavily proscribed in most cultures, with the destruction of an enemy's flag being the ultimate act of political contempt and opposition. So what is it that gives Bailey, who is a white artist from Los Angeles, the right to destroy this flag by Thomas, an Aboriginal man, who has moreover had such difficulty first of all asserting his copyright over the design and then enforcing his legal rights over it? What allows Bailey to think that he has anything to contribute to the cause it is seen to stand for by displaying it in these various sail-shaped formats in an art gallery? Undoubtedly the negotiation of the permissions to make and display Bailey's altered versions is one of the actual subjects of the work, one of the things that, after a while, we become conscious of while looking at it. (This is just as in the CityCat performances the passengers would gradually have become aware of the co-operation or even "reconciliation" between the ferry driver and the actor standing on the shore, whose actions are necessarily synchronised, even if they could not actually see them signalling to each other.)
But – to pick up the analogy to sailing that the work proposes – we might indeed think of Bailey as the wind that animates Thomas' flag. Bailey in cutting up the flag might appear to destroy it, but in fact his act queries how it might travel further, how it might occupy sites – real, historical and ideological – the original might never otherwise have got to.7 He merely continues that process of dissemination that is already at play from the very moment that Thomas made his flag and gave it to others to fly. At that point any original meaning it might have had was lost as it became a boat – a kind of Argo – that others could sail in. And, indeed, for Bailey – who was a keen sailor in his youth – the wind always does have something of this utopian dimension about it. In his 2001 Schindler Shelter project, he not only created sail-like structures covered with maps in a style that recalled Malevich's Suprematism, but reconfigured the architect R.M. Schindler's famous Kings Road House in West Hollywood to resemble a community shelter after a natural disaster by bending bamboo trees down on one side with sheets to form temporary shelters. The sail for Bailey is always the sign of a certain openness, a receptivity to the future, an ability to respond to unknown circumstances and make the best of them.
Edited excerpt from "The Wind in his Sails" by Rex Butler.
Dave Hullfish Bailey (*1963) lives in Los Angeles, where he teaches at Art Center. The artist's approach to investigating sites is focused upon how geography, physical infrastructure and social narratives of emancipation intersect in specific places. His performative staging of research mobilizes standard tools of intellectual enlightenment (empirical inspection, historical contextualization, scientific analysis, etc.) alongside more heuristic techniques including language games, experimental mappings, re-purposed logical machines, and hypothetical scenarios. What emerges are narratively experimental and critically reflexive super-ecologies, characterized by active feedback loops between two already complexly organized systems: the internal 'signal' of the place, and the 'noise' of the attempt to describe it. Recent exhibitions and projects include the 30th Sao Paulo Biennial (2012); For the blind man in the dark room looking for the black cat that isn't there (Contemporary Art Museum St. Louis, ICA London, De Appel Amsterdam, and other venues, 2009-10); Surrounded by Squares: Dave Hullfish Bailey and Nils Norman, Raven Row, London (2009); Lyon Biennial 2007; What's Left to its own Devices (On reclamation), Casco Office for Art, Design and Theory, Utrecht (2007); and CityCat Project, Brisbane (2003/ongoing). Recent publications include the exhibition catalog Elevator (Secession, Vienna: 2006) and the artist's book What's Left (Casco/Sternberg Press, Utrecht/ Berlin: 2009).
For further information, please contact David Pestorius on (07) 3262 4870.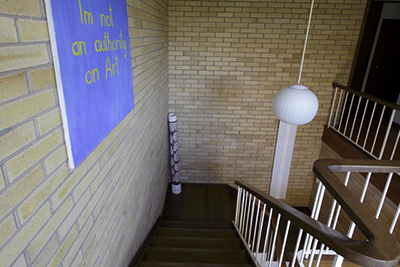 REPAINT
8–22 December
Opening: 8 December, 6–9pm
Closing event: 22 December, 3–5pm
Pestorius Sweeney House, Brisbane
Following the renovation of the central stairwell at the Pestorius Sweeney House, the exhibition REPAINT will dramatise this space with five paintings by five artists who emerged in the wake of the 'crisis in painting' precipitated by Minimal Art in the 1960s.
The earliest and perhaps the most significant is a hollow log coffin by Maningrida artist England Bangala (1925–2001). Leaning casually in a corner that marks the true centre of the house, Larkan, c. 1988, signals the important role Aboriginal art has played in the renewal of painting after Minimalism. The dynamic forms of Bangala's painted pole also echo the circular experience of the space, with its subtle colours, textures and distinctive serpentine handrail carved out of Queensland maple by local master craftsman Robert Dunlop.
The Sydney artist A.D.S. Donaldson (*1961) also adopts a severely vertical format with Untitled, 1995. However, the association is as much to Barnett Newman as it is to Aboriginal art. If the format appears to underscore the verticality of the paint image, Donaldson also manages to question a certain orthodoxy in the 'truth to materials' dictates of modern painting. Using thinned liquid pigments, Donaldson's mode of production is both wholly manifest and almost impossible to discern and even suggestive of industrial fabrication.
The paintings for the space of car windows by Frankfurt artist Andreas Exner (*1962) also bring the industrial object into tension with the handmade. Only provisionally a monochrome, Exner's Saab 900 1988 Turquoise Blue Light Studio Lascaux, 2006, bears the trace of a second colour and the vehicle that prompted it.
Untitled (I'm not an authority on art), 1989, by Melbourne artist Elizabeth Newman (*1962) also confounds our experience of it. A subtly crafted blue monochrome overlaid with the brief textual pronouncement of its subtitle in faux-naïve script, Newman's painting both lauds and criticises modern painting and the complex rhetoric that surrounds it.
Finally, Untitled, 2006, by Heimo Zobernig (*1958) is a similarly ambivalent undertaking. A white monochrome, its pure surface projects the idealism and utopian promise of modern painting. Closer inspection, however, reveals a more complicated scenario. As with many of the Viennese artist's paintings, a coloured masking tape is used not so much to achieve a perfect finish, but to raise questions about finish and the role of the viewer.
REPAINT also wants to remember the Malcolm Enright curated exhibition Minimalism X Six (Institute of Modern Art, Brisbane, 1983), a critical moment in the evolution of Minimal Art in Australia. On the afternoon of Saturday 22 December, Enright and Minimalism X Six artist Jenny Watson will cast their minds back to that moment almost 30 years ago when Minimalism, having embraced the lessons of Conceptual art, began to engage with the 'return to painting' of the early 1980s.
For further information, please contact David Pestorius on (07) 3262 4870.
Sarah Morris - Points on a Line
Saturday 3 November 2012, 4–9pm
Pestorius Sweeney House, Brisbane
The Farnsworth House, Plano, Illinois and the Glass House, New Canaan, Connecticut. Philip Johnson and Mies van der Rohe. Curator and architect. Architect and architect. Points on a Line, 2010, directed by artist Sarah Morris (*1967) documents a shared desire to build structures that might change the way we think about a house, a form and a context. These two buildings were the result of shared ideas and collective desire. But they also complicate ideas of the copy and the original and the chronologies of Modernism.
The two buildings demonstrate a legacy of focus upon details and surface – inside and outside. Capturing the tension of ego and authorship in precisely deferring architectural statements. By carefully documenting the daily maintenance of these two buildings and lingering over the precise placement of the structures in space and of objects within each structure, we are presented with a clear view of places that have gone beyond their initial use and become the intersection of a dialogue that was both personal and professional. Morris's deployment of cinematic codes in relation to architectural precision produces images that go beyond a record of functionality or the streamlining of needs. These are places that remain elusive despite their openness – structures that are open vessels where we search for markers of the corporate aesthetic to come and the legal wrangles that marked the struggle to complete and maintain them. Buildings that require constant representation and new documentation in order to recode and understand what came before and what came next. Obtaining complete unrestricted access for each location of the film, Morris has woven together art, architecture and corporate image production with flowers, the behavior of bees and the patterns of butterflies — window washing, cooking, power-broking and collecting.
Morris filmed at both sites over the course of several months, among other locations including The Four Seasons Restaurants, the Seagram Building, Mies van der Rohe's infamous Lake Shore Drive, and Chicago's Newberry Library. Morris utilizes The Four Seasons, a place that Philip Johnson practically used as his personal office, as the meeting point between the two architects. Ultimately, Points on a Line is a record of preservation of two structures and a document of power plays that left a mark in the pragmatic idealism of the late modern period.
Sarah Morris lives and works in New York City. She has widely exhibited internationally, with solo exhibitions since 2005 at the Museum für Moderne Kunst, Frankfurt; Museo d'Arte Moderna, Bologna; Fondation Beyeler, Basel; Museum Boijmans van Beuningen, Rotterdam; Moderna Museet, Stockholm; and Palais de Tokyo, Paris. This space-related installation of Points on a Line will be the first time the work has been presented in Australia. 
This project has been organised in co-operation with the Centre for Architecture Theory Criticism History at The University of Queensland and will be preceded by a number of short presentations, including Alexandra Brown on Superstudio, 9999, Radical Architecture, and the S-Space Mondial Festival in November 1971; Andrew Leach on Reyner Banham and the question of quality in contemporary architecture; David Pestorius on the calculated misrepresentation of Ian Burn and his work in official Art & Language histories; and Andrew Wilson on colour in the work of Brisbane architects Hayes & Scott. Attendance is free, however, persons wishing to attend are requested to register in advance. Acknowledgments: A|T|C|H, Friedrich Petzel Gallery, MAAP Media Bank.
For further information, please contact David Pestorius on (07) 3262 4870.