Recent, Current and Upcoming
Triple Oh!
- Pestorius Sweeney House
Dave Hullfish Bailey—CityCat Project 2012
- Pestorius Sweeney House
Sarah Morris - Points on a Line
- Pestorius Sweeney House
________________________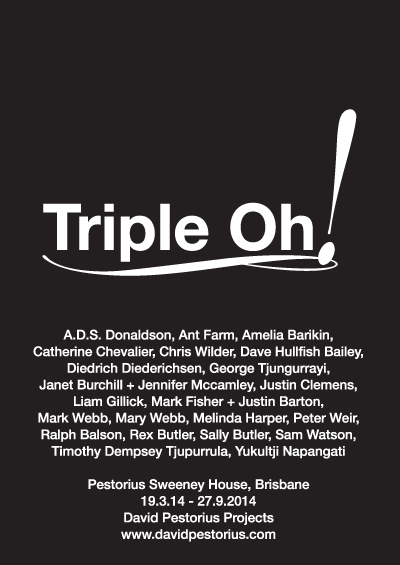 Triple Oh!
19 March — 27 September, 2014
Pestorius Sweeney House, Brisbane
It seems counter-intuitive to put together art — a form or medium dominated since Kant by questions of intentionality — and the object-oriented ontology arising out of the recent philosophical movement of Speculative Realism. However, undoubtedly one of the corollaries of Speculative Realism's unchaining of ontology from "correlationism" — the assumption that reality must somehow correspond to human subjectivity and is only available to it — is the unchaining of art from questions of human intention and purposiveness.
Of course, in some ways this unchaining has been taking place in art since Pop and Minimalism, but at the same time these two movements (and post-modernism in general) have also been the occasion for an ever greater assertion of the artist's intentions: from the "irony" of Warhol to the "meta-intentionality" recently theorised by Michael Fried in relation to Thomas Demand's Pacific Sun (2011). Triple Oh! wants to rethink this break in the connection between art and the question of human subjectivity and proposes an experience that is alternately cosmic and unhomely, coming from the farthest reaches of the universe but also from close at hand.
Comprising a succession of displays that unfold over six months and concluding with a symposium, Triple Oh! will commence with a presentation of paintings by two of Australia's pioneers of abstraction, Ralph Balson and Mary Webb (19 March—12 April). In the late 1950s, a time of extreme romanticism in art, Balson and Webb eschewed this sensibility, their work reflecting a world that no longer had humanity at its centre, but rather a universe of indeterminacy and change. Like the Aboriginal painting that emerged from Australia's Western Desert in the 1970s, it speaks of a non-anthropocentric world in which consciousness is projected beyond the human and suggests other forms of knowledge and experience where man is no longer central to existence. In line with these connections, the opening display will transition into an installation of more contemporary paintings by A.D.S. Donaldson, George Tjungurrayi, Melinda Harper, Timothy Dempsey Tjupurrula, and Yukultji Napangati, presented alongside a video monitor screening Peter Weir's ineffable 'Picnic at Hanging Rock' (16 April—10 May). Then, on the evening of Saturday 17 May, Aboriginal activist and writer Sam Watson will read selected passages from his literary masterpiece 'The Kadaitcha Sung' (Penguin Books, 1990), as a prelude to the Australian premier of Mark Fisher and Justin Barton's haunting audio-visual essay 'On Vanishing Land'. Chris Wilder's 'Project Blue Book', which forged links between Ufology, Land Art, and post-Conceptual practices, will then be paired with documentation from 'The Dolphin Embassy', an experiment in trans-species diplomacy that was partially realized in Australia in 1976–77 by the collaborative art and design group Ant Farm (28 May—28 June). This will be followed by a site-related installation by Mark Webb that connects the past, the future and the domestic with the cosmic (2—26 July), a room of shields by Janet Burchill and Jennifer McCamley (30 July—23 August), and, finally, a new photo-piece from Dave Hullfish Bailey's collaborative 'CityCat Project' (27 August—27 September). The project poster and graphic design are by Liam Gillick.
The Triple Oh! symposium is being organised in conjunction with The University of Queensland Art Museum where it will be held on 26–27 September 2014. The symposium program has been developed with Amelia Barikin (University of Queensland), Rex Butler (University of Queensland) and Justin Clemens (University of Melbourne), each of whom will give presentations, while the German cultural theorist Diedrich Diederichsen (Academy of Fine Arts, Vienna) will deliver the keynote address. Other presenters include Justin Barton (London), Sally Butler (University of Queensland), Catherine Chevalier (May Revue, Paris), and A.D.S. Donaldson (National Art School, Sydney).
For further information, please contact David Pestorius on (07) 3262 4870.
Dave Hullfish Bailey—CityCat Project 2012
Saturday 8 December, 1–5pm
Pestorius Sweeney House, Brisbane
Exhibition
CityCat ferries, Brisbane River
Performance with Sam Watson
Saturday 8 December, 6–9pm
Pestorius Sweeney House, Brisbane
Roundtable with Sam Watson, Ian McLean, Michele Helmrich, and Rex Butler
For his series of variations on Harold Thomas' (Aboriginal) flag, Proposals for some possibly useful reconfigurations (2011), Dave Hullfish Bailey was inspired, he says, by the 18-foot skiff, the 'Aberdare', which used technological innovations (and profits from the Aberdare Colliery near Ipswich) to dominate racing on the Brisbane River in the 1930s. What Bailey proposes is a possible set of sails for its descendants on today's televised racing circuit, each of which would be composed of a cut-up and re-ordered version of Thomas' flag. We have a small spinnaker for running, which is when a boat sails downwind with the wind behind it. We have a larger asymmetrical spinnaker for reaching, which is when the boat sails across or perpendicularly to the wind. And we have a jib or headsail for beating, which is when the boat engages in successive tacks back and forth in an attempt to sail into the wind. Bailey first came across the story of the 'Aberdare' through research stemming from his 2006 CityCat Project, a collaboration with Indigenous activist and playwright Sam Watson. In his Project, Bailey worked with Watson to have the Brisbane ferries at one point of their route momentarily veer off course, slow down and face Aboriginal actors standing in the Boundary Street Park, a historical landmark for the local Turrbal and Jagera people. Importantly, Watson hung a large version of Thomas' flag at the site, which is significant not only for its Kurilpa Dreaming but because it lies on the historical curfew line that prohibited Aboriginal people from entering the city after dark. (Here those three sailing terms, "running", "reaching" and "beating", can also be understood to describe the interaction between the Indigenous population of Brisbane and the new European colonisers.)
Of course, looking at Bailey's 22 paper collages, we cannot but be struck by the obvious iconoclasm of his Proposal, almost in the literal religious sense. The burning or defacement of the flag, if not always strictly illegal, is usually heavily proscribed in most cultures, with the destruction of an enemy's flag being the ultimate act of political contempt and opposition. So what is it that gives Bailey, who is a white artist from Los Angeles, the right to destroy this flag by Thomas, an Aboriginal man, who has moreover had such difficulty first of all asserting his copyright over the design and then enforcing his legal rights over it? What allows Bailey to think that he has anything to contribute to the cause it is seen to stand for by displaying it in these various sail-shaped formats in an art gallery? Undoubtedly the negotiation of the permissions to make and display Bailey's altered versions is one of the actual subjects of the work, one of the things that, after a while, we become conscious of while looking at it. (This is just as in the CityCat performances the passengers would gradually have become aware of the co-operation or even "reconciliation" between the ferry driver and the actor standing on the shore, whose actions are necessarily synchronised, even if they could not actually see them signalling to each other.)
But – to pick up the analogy to sailing that the work proposes – we might indeed think of Bailey as the wind that animates Thomas' flag. Bailey in cutting up the flag might appear to destroy it, but in fact his act queries how it might travel further, how it might occupy sites – real, historical and ideological – the original might never otherwise have got to.7 He merely continues that process of dissemination that is already at play from the very moment that Thomas made his flag and gave it to others to fly. At that point any original meaning it might have had was lost as it became a boat – a kind of Argo – that others could sail in. And, indeed, for Bailey – who was a keen sailor in his youth – the wind always does have something of this utopian dimension about it. In his 2001 Schindler Shelter project, he not only created sail-like structures covered with maps in a style that recalled Malevich's Suprematism, but reconfigured the architect R.M. Schindler's famous Kings Road House in West Hollywood to resemble a community shelter after a natural disaster by bending bamboo trees down on one side with sheets to form temporary shelters. The sail for Bailey is always the sign of a certain openness, a receptivity to the future, an ability to respond to unknown circumstances and make the best of them.
Edited excerpt from "The Wind in his Sails" by Rex Butler.
Dave Hullfish Bailey (*1963) lives in Los Angeles, where he teaches at Art Center. The artist's approach to investigating sites is focused upon how geography, physical infrastructure and social narratives of emancipation intersect in specific places. His performative staging of research mobilizes standard tools of intellectual enlightenment (empirical inspection, historical contextualization, scientific analysis, etc.) alongside more heuristic techniques including language games, experimental mappings, re-purposed logical machines, and hypothetical scenarios. What emerges are narratively experimental and critically reflexive super-ecologies, characterized by active feedback loops between two already complexly organized systems: the internal 'signal' of the place, and the 'noise' of the attempt to describe it. Recent exhibitions and projects include the 30th Sao Paulo Biennial (2012); For the blind man in the dark room looking for the black cat that isn't there (Contemporary Art Museum St. Louis, ICA London, De Appel Amsterdam, and other venues, 2009-10); Surrounded by Squares: Dave Hullfish Bailey and Nils Norman, Raven Row, London (2009); Lyon Biennial 2007; What's Left to its own Devices (On reclamation), Casco Office for Art, Design and Theory, Utrecht (2007); and CityCat Project, Brisbane (2003/ongoing). Recent publications include the exhibition catalog Elevator (Secession, Vienna: 2006) and the artist's book What's Left (Casco/Sternberg Press, Utrecht/ Berlin: 2009).
For further information, please contact David Pestorius on (07) 3262 4870.
Sarah Morris - Points on a Line
Saturday 3 November 2012, 4–9pm
Pestorius Sweeney House, Brisbane
The Farnsworth House, Plano, Illinois and the Glass House, New Canaan, Connecticut. Philip Johnson and Mies van der Rohe. Curator and architect. Architect and architect. Points on a Line, 2010, directed by artist Sarah Morris (*1967) documents a shared desire to build structures that might change the way we think about a house, a form and a context. These two buildings were the result of shared ideas and collective desire. But they also complicate ideas of the copy and the original and the chronologies of Modernism.
The two buildings demonstrate a legacy of focus upon details and surface – inside and outside. Capturing the tension of ego and authorship in precisely deferring architectural statements. By carefully documenting the daily maintenance of these two buildings and lingering over the precise placement of the structures in space and of objects within each structure, we are presented with a clear view of places that have gone beyond their initial use and become the intersection of a dialogue that was both personal and professional. Morris's deployment of cinematic codes in relation to architectural precision produces images that go beyond a record of functionality or the streamlining of needs. These are places that remain elusive despite their openness – structures that are open vessels where we search for markers of the corporate aesthetic to come and the legal wrangles that marked the struggle to complete and maintain them. Buildings that require constant representation and new documentation in order to recode and understand what came before and what came next. Obtaining complete unrestricted access for each location of the film, Morris has woven together art, architecture and corporate image production with flowers, the behavior of bees and the patterns of butterflies — window washing, cooking, power-broking and collecting.
Morris filmed at both sites over the course of several months, among other locations including The Four Seasons Restaurants, the Seagram Building, Mies van der Rohe's infamous Lake Shore Drive, and Chicago's Newberry Library. Morris utilizes The Four Seasons, a place that Philip Johnson practically used as his personal office, as the meeting point between the two architects. Ultimately, Points on a Line is a record of preservation of two structures and a document of power plays that left a mark in the pragmatic idealism of the late modern period.
Sarah Morris lives and works in New York City. She has widely exhibited internationally, with solo exhibitions since 2005 at the Museum für Moderne Kunst, Frankfurt; Museo d'Arte Moderna, Bologna; Fondation Beyeler, Basel; Museum Boijmans van Beuningen, Rotterdam; Moderna Museet, Stockholm; and Palais de Tokyo, Paris. This space-related installation of Points on a Line will be the first time the work has been presented in Australia. 
This project has been organised in co-operation with the Centre for Architecture Theory Criticism History at The University of Queensland and will be preceded by a number of short presentations, including Alexandra Brown on Superstudio, 9999, Radical Architecture, and the S-Space Mondial Festival in November 1971; Andrew Leach on Reyner Banham and the question of quality in contemporary architecture; David Pestorius on the calculated misrepresentation of Ian Burn and his work in official Art & Language histories; and Andrew Wilson on colour in the work of Brisbane architects Hayes & Scott. Attendance is free, however, persons wishing to attend are requested to register in advance. Acknowledgments: A|T|C|H, Friedrich Petzel Gallery, MAAP Media Bank.
For further information, please contact David Pestorius on (07) 3262 4870.